Skateboarders Reach New Heights
---
At the £170k skate park in King George's Park
Children and teenagers are enjoying a new state-of-the-art BMX, scooter and skateboard course complete with half pipes, banks, ramps, grindrails, handrails and flyoffs.

The new facility, just off Kimber Road, is proving a big hit with young people, especially at weekends when they are able to show off their jumps, tricks and skills to their friends.

The £170,000 was invested as part of a £550,000 refurbishment and improvement programme at three playgrounds in the borough.


Wandsworth's cabinet member for children's services Cllr Kathy Tracey, who visited the new skatepark over the weekend, said: "The young people I spoke to were having an absolutely fantastic time there. They told me they were thrilled they were able to come and enjoy such a good track.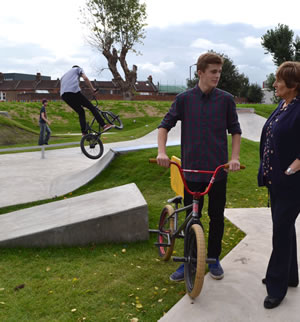 "Judging by some of the really amazing tricks and stunts they were performing I could see exactly why they thought it was so good. Skateboarding, BMX biking and riding and doing tricks on scooters is now hugely popular with children and teenagers and so I'm delighted that we have been able to open such a good facility. Widening the range of services we offer to young people and delivering exciting new attractions like skate parks shows our commitment to providing top quality play facilities for children and young people in Wandsworth."

The council is also exploring options for the adjacent play building at Kimber Road, which could potentially be used as a youth café, a shop selling skateboard and BMX parts and accessories or be used as a venue from which to offer skateboarding classes run by professional tutors.


October 15, 2013