A range of signs throughout the department convey essential information to patients at each stage of their care. These use simple language to ensure a consistent and clear message is given to patients and relatives, allowing them to better understand their journey through the department.
St George's is one of the first emergency departments in the country to implement this new system of signage. A research team will evaluate the success of the signage which, if deemed successful, could be rolled out on a national level.
The signage was developed by design studio PearsonLloyd as part of a project organised by the Design Council and commissioned by the Department of Health.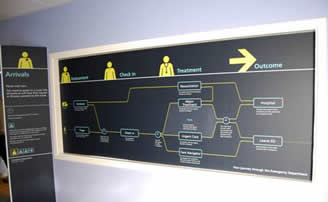 Dr Sunil Dasan, consultant lead for quality and safety in the emergency department, said: "Patients who attend are often anxious about coming to hospital, and having a lack of information only worsens the problem. Having this signage in place will give a better understanding of how the department works, which in turn would make patients and relatives less likely to become confused, angry or frustrated about their care in the department. We hope this will have a really positive impact on the whole experience that patients and relatives have when they come to hospital in an emergency."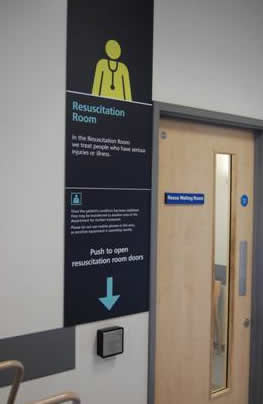 Chris Howroyd, head of programmes at the Design Council, said: "We're thrilled to be working with St George's Hospital. Their adoption of this signage system will help to prove that good design can make a real impact in NHS hospitals. When designers have the opportunity to co-produce solutions with patients and frontline NHS staff, they develop ideas that satisfy a real need, benefitting all concerned."

December 21, 2012