Putney To Blackfriars In 37 Minutes…By Boat
---
The total number of services on this route each day will rise from 7 to 23
Thames Clippers has published its new timetable for the Putney to Blackfriars riverbus service; revealing journeys times will be slashed to just 37 minutes.

The boat operator's high-speed catamarans take over the route on Tuesday 2 April.

Sean Collins, founder and Managing Director of Thames Clippers said: "We're thrilled to be expanding our route to include the Blackfriars to Putney service, and will continue to deliver the best service to London's commuters and visitors in a safe and comfortable environment. Passengers will have access to a significant increase in weekday services and improved integration to the wider transport network across the capital. We are committed to working with TfL to ensure that more people than ever before utilise the river as a mode of transport."



Council transport spokesman Cllr Russell King said: "This is a huge leap forward for London river transport. A 37 minute journey into Blackfriars will make this a viable, convenient commuter option for many people. A new pier will soon be added to the route at Plantation Wharf which will open up the service to even more local residents. In a few years time another will be built directly outside Battersea Power Station.

"Travelling by river is a fantastic way to get across the city and this higher capacity service will help take some of the pressure of our overcrowded trains, tubes and buses. We will continue to work with the Mayor, TfL and Thames Clippers to secure an even better riverbus service in the years ahead. This is a great step forward but there is much more work to be done."

Every weekday morning seven boats will depart Putney Pier and head east into the city centre between 6.30am and 9.30am.

Another four eastbound services run every weekday evening between 5.15pm and 7.15pm.

On weekday morning seven boats will run in the opposite direction, departing Blackfriars Pier between 6.30am and 9.10am.

There will also be five west bound weekday evening services between 4.35pm and 7.15pm.

All services are timetabled to take between 37 and 39 minutes to complete the route.

After departing Putney they will stop at Wandsworth Riverside Quarter, Chelsea Harbour, Cadogan, Embankment and Blackfriars Piers.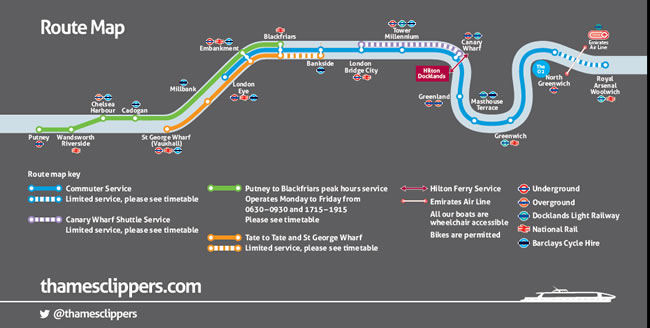 Download the new timetable from the KPMG Thames Clippers website.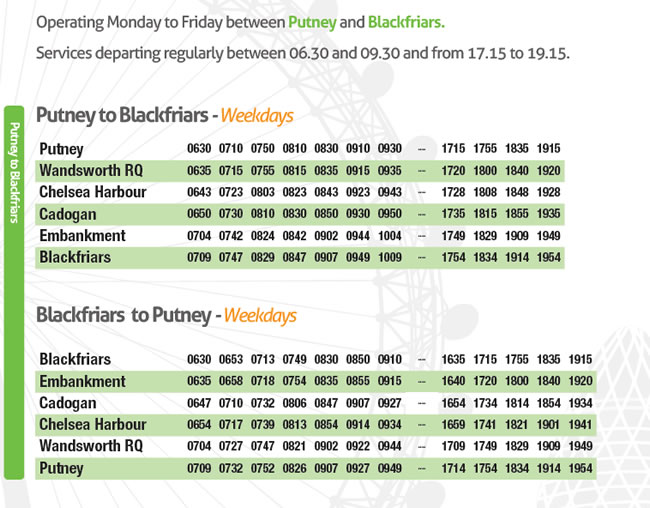 Real time boat arrival information - called iBoat - will shortly be rolled out at the piers on this section of the river. Arrival information will also be available via mobile phone apps meaning customers will be able to time their arrival at the pier to catch the next boat.

KPMG Thames Clippers will also bring Oyster to the route, meaning passengers can use Pay as You Go credit for their fares. There will also be a reduced fare for passengers with Travelcards. For regular passengers there is a range of season tickets available on a weekly, monthly and yearly basis.

In order to make the route fully accessible, essential improvement work is to be carried out on a number of piers on the route, part funded by Wandsworth Council.

March 26, 2013