As Thames Clippers' figures show 130% increase in passengers

The River Bus Service from Putney to Blackfriars via Chelsea Harbour/Imperial Wharf on Fulham's riverside is to be extended as figures show a huge increase in passengers since the service was taken over by KPMG Thames Clippers in April.
The service will now include St George's Wharf in Vauxhall with selected services also serving London Bridge and Canary Wharf.
These changes are to be introduced from today following a significant increase in passenger demand and feedback from customers.
The service has been operated since April by KPMG Thames Clippers and the most recent figures show a 130% increase in passenger numbers.
During the most recent period (22 July 2013 - 18 August 2013) 11,074 people travelled on the service compared with 4,763 in the same period in 2012.
As a result, there will also be an increase in the number of sailings on this service.
From this week an additional two services will operate during weekday mornings, with three further services weekday evenings - providing passengers with a more frequent and more extensive service on this route.
Andy Thompson, Head of London River Services, said: "We're really pleased that the River Bus has become such a sail away success. We have listened to passengers and have made these changes to both extend and improve this service.
"With more sailings and more destinations the River Bus is going from strength to strength."
Here is the updated timetable: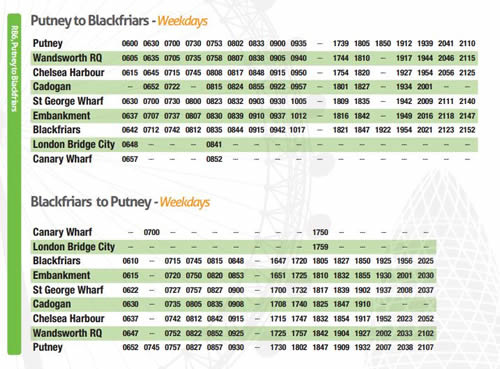 You cann also find the updated timetable showing the additional services on Thames Clippers' website.


September 11, 2013