It's preventable, treatable and beatable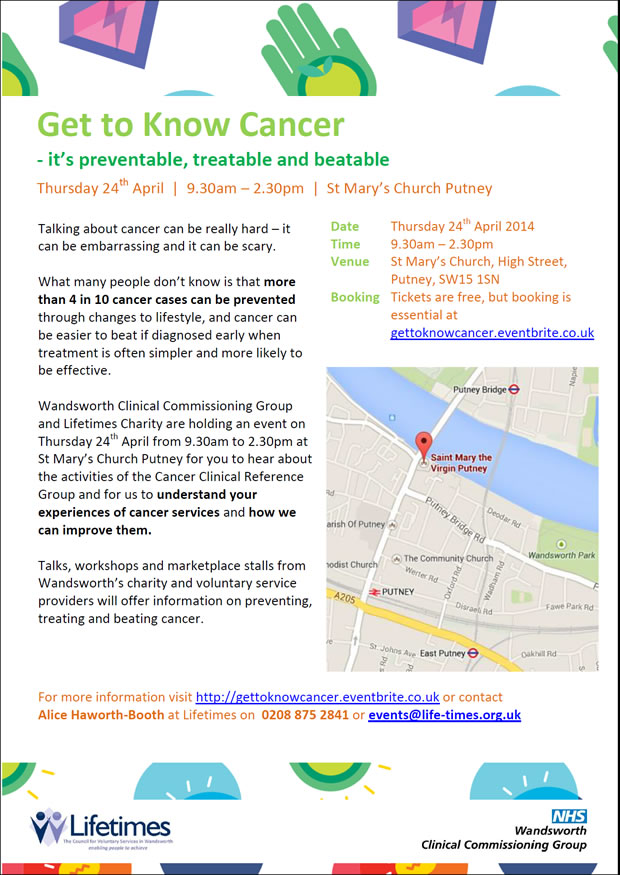 Talking about cancer can be really hard – it can be embarrassing and it can be scary.
What many people don't know is that more than 4 in 10 cancer cases can be prevented through changes to lifestyle, and cancer can be easier to beat if diagnosed early when treatment is often simpler and more likely to be effective.
Wandsworth Clinical Commissioning Group and Lifetimes Charity are holding an event on Thursday 24th April from 9.30am to 2.30pm at St Mary's Church Putney for you to hear aboApril 17, 2014for us to understand your experiences of cancer services and how we can improve them.
Talks, workshops and marketplace stalls from Wandsworth's charity and voluntary service providers will offer information on preventing, treating and beating cancer. A free lunch will be provided.
To attend, just book your ticket at gettoknowcancer.eventbrite.co.uk
April 15, 2014