Happy Anniversary Isabella
---
A fortnight of special events to celebrate Isabella Plantation's 60th anniversary
Isabella Plantation, a 40 acre ornamental woodland garden in Richmond Park is to celebrate its 60th anniversary with a programme of free community events from 16-30th August 2013.

The free events include guided walks (16th, 22nd, 27th and 30th August), a showcase of art for young people (21st August) and a Teddy Bears picnic for young children and families (23rd August) - a shuttle bus will run between the Alton Estate in Roehampton and the Isabella Plantation on this day.

The Plantation is located in the south west area of the park, with the anniversary events focused around the yurt by Peg's Pond. Most visitors to the Plantation park in the Broomfield Hill car park which is located on the main Richmond Park perimeter road between Robin Hood Gate and Kingston Gate.
Full details of the fortnight of free events can be found at The Royal Parks website.
The events will also showcase a number of recent improvements to Isabella Plantation which include enhancements to ponds and streams, upgrades to the existing path network, resurfacing and redesign of the Plantation's disabled car park as well as the addition of a new fully accessible toilet block.

Jo Scrivener, Assistant Park Manager said:
"We want to give as many people as possible the opportunity to come and visit the Isabella Plantation and see the improvements made to date. We were very fortunate to be able to secure £1.5 million from Heritage Lottery Fund and the Big Lottery Fund and a further £120,000 from Sita Trust to deliver a range of improvements to the Plantation projects.

"The Isabella Plantation is one of the most visited attractions in Richmond Park and it is hoped these improvements will encourage education and community activities and be enjoyed by park users for years to come."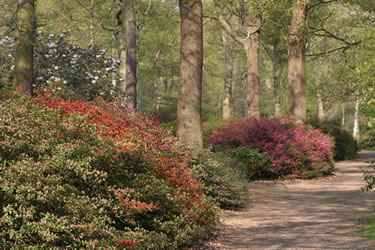 The Plantation is home to an exotic array of trees and shrubs including: the Wilson 50 National Collection of Evergreen Azaleas, in excess of 150 hardy hybrid Rhododendrons, 50 species Rhododendron, a large collection of Camellias and magnolia as well as many rare and unusual trees and shrubs.

The Plantation can be dated back as far as 1771, when it is shown on maps as Isabella Slade. It was planted for timber in 1831. From 1953 the present garden of clearings, ponds and streams was established, and the old name Isabella was adopted for the fenced garden.

For further information about the anniversary events please contact Holly Lodge on 0300 061 2200 or email isabella@royalparks.gsi.gov.uk


August 12, 2013