The 36th West London Local History Conference
Saturday takes place on Saturday 19th March 2016 at University of West London, Brentford Campus.

This year the lively speakers provide a programme which explores the lives of children in the past: baptisms and burials, work, play and learning, poverty and philanthropy. Bookstalls from sponsoring societies will be open during the conference breaks to help you to keep in touch with local history in our area.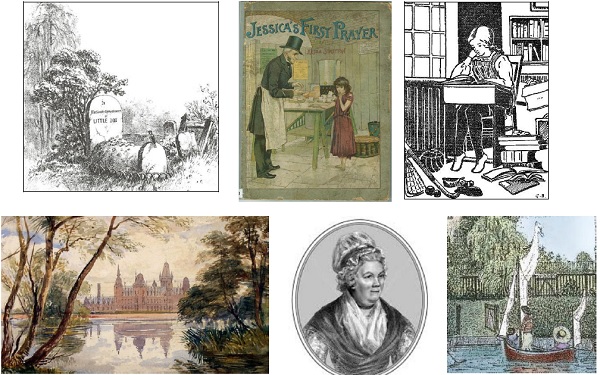 Programme

9.30 Doors open for viewing of sponsoring societies' stalls
10.00 Welcome by Val Bott, chairman of the organising committee
10.05 The children of the poor of Victorian Kingston upon Thames
Dr Helen Goepel, researcher at the Centre for the Historical Record at Kingston University
10.45 COFFEE
11.15 Daughters of the Drum: the Orphans of the Royal Victoria Patriotic Asylum, Wandsworth Common
Simon McNeill Ritchie, Wandsworth Historical Society
12.00 "Once a Paulina": the story of St Paul's Girls' School
Dr Howard Bailes, the School's Archivist & former history teacher there
12.45 LUNCH
1.45 Children's lives
Historical documents on our theme read by the organising committee
2.15 Writing for children: from Jessica's First Prayer (1867) to At The Back of the North Wind (1871), Hesba Stretton & George MacDonald
Susan Bailes, former head teacher & children's literature historian
3.00 TEA
3.30 Sarah Trimmer & her daughters, pioneers in educating the poor
of Brentford
Andrea Cameron, Chairman, Hounslow Heritage Guides
4.00 Chiswick Children 1700-1851: a B&CLHS project for Hogarth's House
a presentation by members of the research team
4.30 Summary of the day's proceedings and Conference ends

Tickets are £15 and are available only in advance, from sponsoring societies or by post from J McNamara, 31B Brook Rd South, Brentford TW8 ONN. Please send SAE & cheque to 'West London Local History Conference'.
The conference is sponsored by the local history societies of Acton, Barnes & Mortlake, Brentford & Chiswick, Fulham & Hammersmith, Hounslow, Richmond, Twickenham, Wandsworth & the West Middlesex Family History Society.

The university's Brentford Campus lies at the north-west corner of the Boston Manor Road/A4 junction, 10-15 minutes' walk from Brentford Station (SW Trains) and Boston Manor Station (Piccadilly Line), with free parking on site.
The conference fee includes morning coffee and afternoon tea. The university refectory will open specially for us on the day, offering sandwiches for lunch, teas, coffees and soft drinks, or you are welcome to bring a packed lunch.

March 8, 2016