Host Your Own Art Exhibition
---
As part of Wandsworth Artists' Open House!


Are you an artist or maker based in Wandsworth? Whether you're a painter, sculptor or potter, make jewellery, prints, or anything in between, Wandsworth Artists' Open House (WAOH) want you!

WAOH is looking for creatives willing to open their home or studio to the public and share their talent with the local community. Part of Wandsworth Council's arts and culture programme, this event is the perfect opportunity to discover a network of fellow artists in your area.

Each year, around 12,000 people are welcomed behind normally closed doors and invited to browse the incredible array of work on display, including paintings, mosaics, textiles and glasswork. A great opportunity to showcase and sell your work, you'll meet art enthusiasts right on your doorstep and from across Wandsworth.

WAOH is all about making art welcoming and open to all the community and revealing the treasure trove of creativity the borough has to offer. If you're keen to take part but don't have a venue, WAOH can help match you with a suitable space to show your work. If you are a venue or home owner happy to host another artist, WAOH would love to talk to you.

Young with no venue but keen to show your work? This year for the second time, the Royal College of Arts teams up with Wandsworth Artists' Open House to offer 5 bursaries to young artists and makers aged 16 to 25, including mentoring by one of their reputable specialists.

So, whether you're a professional artist, an Art student or just passionate about a creative hobby, visit the website and register now: wandsworthart.com.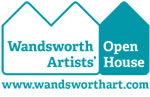 Stay up to date with WAOH on:
Twitter @wandsworth_arts, Instagram @WandsworthArts and Facebook @WandsworthArtsTeam.


June 24, 2019