New Survey Boat For The Thames
---
High-tech scanning 'Thame' providing support for Tideway and the new "super sewer"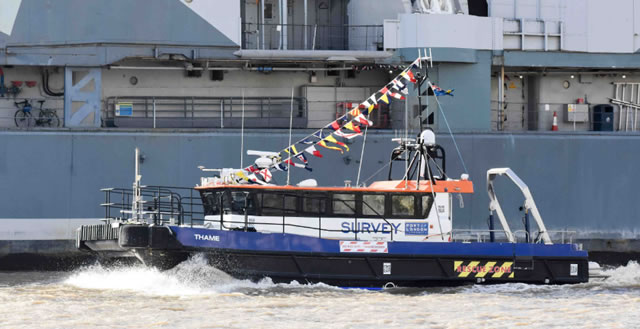 Heidi Alexander, the Deputy Mayor of London for Transport, has named the latest addition to the Port of London Authority (PLA) fleet of vessels that survey the bed of the tidal River Thames.

Covering a patch that extends from Richmond in Surrey to Gravesend in Kent, via Chiswich, Hammersmith Putney, Fulham and Wandsworth, Thame works to help ensure that the river - the UK's busiest inland waterway and second biggest port - is safe for freight and passenger vessels, as well as recreational river users.

Currently Thame is providing survey support for Tideway, the company delivering London's new "super sewer", the Thames Tideway Tunnel. The vessel deploys state-of-the-art sonar, laser and photographic equipment to map the river's ever-changing contours and identify potential artefacts and hazards, hidden in its bank, jetties and walls. She is also available for commercial work.

At the naming ceremony this week Heidi Alexander, who also chairs the London and Thames Waterways Forum, said: "I'm delighted to officially name Thame. Her projects so far have included crucial work to support Transport for London deliver the new Woolwich Ferry terminals and ensure they can accommodate our new low-emission ferries. Safety on the water is of paramount importance for everyone connected with the Thames, so it's reassuring to know there is another vessel out there working to ensure risks to river users are kept as low as possible."

Robin Mortimer, PLA chief executive, said: "Thanks to vessels like Thame, the 2035 Thames Vision, which targets greater river use at the heart of our growing city, is becoming a reality.
"Making sure our expert hydrographers have access to the latest technology and highly capable boats, is an essential part of our work to ensure that people can make the most of the river, safely.

"The preparatory work Thame is undertaking to help deliver key projects, such as the Thames Tideway Tunnel and new river crossings, is a great example of her flexibility, sustaining the long-term health and prosperity of the river."

November 15, 2018