More than 20,000 cyclists pass through the borough during two cycling events.


Wandsworth Council is reminding residents to plan ahead should they need to travel in the area on Sunday, as the following roads will be closed from 7.30am:
• Wimbledon Park Side
• Tibbet's Ride
• Putney Hill
• Putney High Street
• Putney Bridge
RideLondon organisers expect road reopening to start from about 7.15pm – with more information available at www.tfl.gov.uk/prudentialridelondon or by calling 0343 222 1234.
The RideLondon festival of cycling, which takes place across the capital on August 3 and 4, is part of the post 2012 Olympic and Paralympic legacy and aims to give a major boost to the number of active cyclists in the UK, while attracting hundreds of thousands of visitors to London and Surrey.
The two RideLondon events passing through Putney are the Prudential RideLondon-Surrey 100, for up to 20,000 amateur and club riders, and the Prudential RideLondon-Surrey Classic, involving the top international professional men.
Cyclists go through the borough as part of the inbound route for both rides, which start in Queen Elizabeth Olympic Park and run through London and Surrey before returning to the capital to finish along The Mall.
Throughout Sunday, a variety of attractions will be on offer in and around Putney town centre, including Carters Steam Fair, live music and street food. A full 'what's on' list can be downloaded here.

The council's transport spokesman, Councillor Russell King, said:
"RideLondon promises to be a huge spectacle, and one which residents can witness first-hand. We hope to see the same kind of excitement and enthusiasm on the streets of Putney that we saw during last year's Olympic road races – and more than that I hope it encourages people of all ages and abilities to give cycling a go themselves."
Organisers expect cyclists in the Surrey 100 to arrive in Wandsworth between 9.50am and 4.35pm, with the professionals in the Surrey Classic due to make an appearance between 5.45pm and 6.15pm.
There will be crossing points along the route for pedestrians and cyclists, while footways alongside closed roads will be open as normal to ensure that pedestrian access to properties and businesses isn't affected.
Drivers are being advised to avoid driving in areas around the route if possible – and those that do need to use the roads should plan ahead and allow more time for their journey. Parking along the route will be suspended throughout the day.
Some bus services will be diverted, temporarily suspended or terminate earlier than their usual destination as a result of the road closures – and there will be stops that are temporarily relocated or suspended.
Other significant nearby closures on the day include Richmond Park, which will be closed to vehicular traffic all day, Chiswick Bridge, the A4 westbound to the Hogarth Roundabout, Wimbledon town centre and Wimbledon Village.
Care services provided by the council and its partners are prepared for the travel disruption – and anyone receiving care with further questions should contact their care provider.
All residents and businesses in the area needing to travel or expecting visitors on Sunday should be aware of the impact the events will have and are advised to plan ahead.
The Prudential RideLondon cycling festival is aiming to become the largest annual mass participation cycling event in the world. The four events making up the two-day cycling festival are:
• The Prudential RideLondon-Surrey 100 on Sunday, August 4. Open to amateur and club riders, it attracted more than 55,000 registrants for about 20,000 places. Anyone unable to secure a place may still be able to take part through one of the many charities with guaranteed entries, or teams of four (men, women or mixed) from the same organisation can enter the Business Relay, where each team member will ride around 25 miles. Details of charity places and the Business Relay are on the Prudential RideLondon website.
• The Prudential RideLondon-Surrey Classic on Sunday, August 4. This race is for elite men's professional riders and follows a 140 mile route that includes the Prudential RideLondon-Surrey 100 route plus three ascents of Leith Hill, the highest point in Surrey and even steeper than Box Hill.
• The Prudential RideLondon Grand Prix on Saturday, August 3, will feature the world's best women, junior and hand cyclists in action on a circuit in and around St James's Park.
• The Prudential RideLondon Freecycle on Saturday, August 3. This eight-mile mass participation ride is free to enter and open to cyclists of all ages and abilities. Roads will be closed in central London on Saturday.
Highlights of the weekend's action and live coverage of the Prudential RideLondon-Surrey Classic will be shown by the BBC.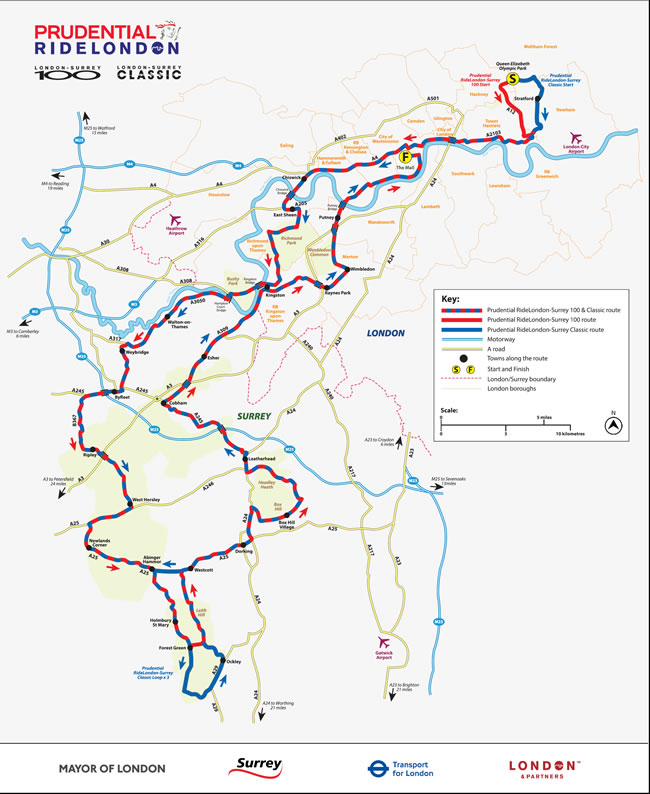 August 1, 2013