The park will be closed to traffic between Roehampton & Sheen Gates
As part of the Diamond Jubilee celebrations, this community event, will be on the sports pitches near Roehampton Gate on May 15. Under the title of "Wild London" it will host a wide range of displays, stands and performances.
The site will be open to the public from 10.30 to 5.30. The Queen herself will arrive at around 2.30pm, entering the Park via Sheen Gate, going to the sports pitches for an hour and then leaving toward Richmond Gate.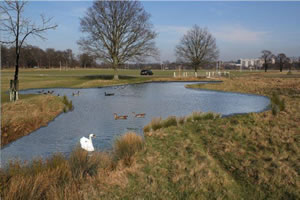 Artist's impression of the Pond.
During the Queen's visit, Sir David Attenborough will be inaugurating the Jubilee Pond, which is the first pond in the Ponds and Streams Programme. The inauguration will be at 1 pm for 10-15 minutes, so you will need to be prompt!
Jubilee Pond will be located by the white bridge on the road from Sheen Cross to the Royal Ballet School, so is very close to the Wild London site. You can find the location at http://tinyurl.com/cosh5d3.
Jubilee Pond is very generously supported by the conservation charity Healthy Planet, who have already supported the Sand Martin nest bank and two tree planting projects in the Park in the last 18 months. They have offered to match pound-for-pound all public donations to the Pond. There is an online facility for donating on the Friends of Richmond Park website by May 15.
The Friends of Richmond Park will have a large marquee in the Conservation Zone (at the back of the site, with the stream behind it). They will have a display of the History Project and Poems in the Park in the Inspiration Zone and a display of the Ponds and Streams Programme in The Royal Parks/Richmond Park Wildlife Group's stand. Actors from Lamda will be reading some of the poems at a performance area at the site at 12.00 and 3.30 (these timings may change).
There will be a variety of organisations at Wild London:
Ham Polo Club
Cycling
British Military Fitness
Rugby Football Union
Climbology
Donkey Rides
Richmond Lawn Tennis Club
KiteVibe
Richmond Archery Club
Petersham Sea Scouts
Horse Rangers
Wildfowl and Wetland Trust
London Wildlife Trust
Bat Conservation Trust
Duke of Edinburgh's Awards
Friends of Richmond Park
Kingston University
The Tree Company
The Royal Parks
London in Bloom
Worshipful Company of Gardeners
London Parks and Gardens Trust
London Parks and Green Spaces forum
London Gardens Society
Children's Flowers society
Metropolitan Parks and Gardens Association
River of Flowers
Richmond and Twickenham Arts Society
Orleans House Gallery
Rural Crafts
The Royal Ballet School
Sound Tent
Outside Space
Visit Richmond - Visit Richmond will be promoting the local attractions and hotels distributing the popular VisitRichmond Guide 2012. Ham House will be having organic herbs that one can smell and touch and The Museum of Rugby will have memorabilia that you can touch and feel. We will have Harlequins and London Broncos players signing balls and hope to have the Olympic athletes visiting our stand.
Richmond in Bloom - learn how to create gorgeous hanging baskets and all items are for sale.
Kew Gardens
The National Trust
Museum of Richmond - children can make their own royal puppet and more hands on activities.
The Richmond Society
Strawberry Hill House - showcasing Horace Walpole's Gothic house and promoting the Strawberry Hill Jazz Festival with a saxophone player.
Richmond Theatre - beautiful displays and promoting the upcoming season.
Richmond Mencap
Premier Inn - make your own Jubilee flag and try out a similar mattress to that which the Queen sleeps on!
Richmond Village
Twickenham Village
East Twickenham Village
St Margarets Village
Teddington Village
Hampton Wick Village
Hampton Hill Village
Hampton Village
Ham Village
Whitton Village
Barnes Village
East Sheen Village
Please note that the road between Richmond Gate roundabout and Roehampton Gate roundabout will be closed all day; Sheen Gate will also be closed to vehicles. There will be no parking near the event; Sheen Lane car park will be closed all day and Roehampton Gate car park is likely to be full from very early; other car parks are likely to be very busy. All pedestrian gates will be open as usual and there will be ample cycle parking.

May 11, 2012