Relay For Life Richmond raises life changing amount for Cancer Research UK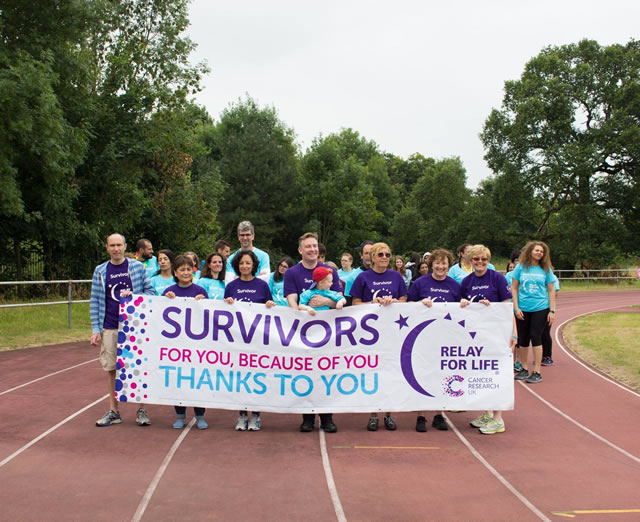 CANCER RESEARCH UK wants to congratulate everyone who was involved in Relay For Life Richmond on 15th-16th July this year.
The local charity committee encouraged family, friends and work colleagues to get together and enter Relay For Life, a unique year-round inspirational team fundraising challenge.
Teams of between 8-15 people, of all ages, levels of fitness and walks of life raised as much money as possible for life-saving cancer research – and they did a fantastic job!
The Relay For Life Richmond teams currently have a fundraising total of just under £25,000 and are even thinking of increasing their £26,000 target up to £30,000!
The teams raised these vital funds through a wide range of activities from bucket collections, pub quizzes, clothes swaps, spinathons, FIFA Nights and donations from their friends and family. They then took part in an overnight fundraising weekend at Barn Elms Sports Trust on 15-16th July 2017.
During the Relay itself, team members took turns to walk around a track while everyone else enjoyed the festival atmosphere. As the event continued non-stop though the night, team members not on the track took turns to rest, eat, sleep and participate in the activities and entertainment set up around the track.
The day was filled with survivor talks, competitions, a dance warm up by Fabulicious Fitness, Zumba, games, Virtual reality headsets, a high energy SwingTrain lap, raffles and live music entertainment from Paulo Freitas, Blind Panic and Goldsworth Gerry.
Maanik Chadda, volunteer Chair of Cancer Research UK's Relay For Life in Richmond, said: "The enthusiasm, energy and positivity throughout the whole weekend was inspirational. It was amazing to see so many committed people walking, dancing and singing round the track after months of fundraising and hard work."
As dusk fell, specially made Candle of Hope bags, decorated with touching messages – in memory or in celebration of loved ones – were filled with sand and lit up with candles around Barn Elms Sports Trust to glow long into the evening. The Candle of Hope ceremony included reading and songs and was a chance to remember those we have lost to Cancer.
As Sunday rolled around an obstacle course was set up by the Sheen Shufflers to wake everyone up and get them ready for their last few hours of walking. A number of 'bed-hair' and 'pyjama' themed laps also got everyone back in high spirits.
The Mayor of Richmond, Lisa Blakemore, made a special appearance at the closing ceremony to make a speech and award medals to all the participants.
Maanik Chadda continued "A huge thanks to everyone for making it a heart-warming, emotional and truly memorable first relay. We're so close to reaching our target and we can't wait to make next year's even bigger and better!"
All in all, Relay For Life Richmond was a huge success, especially as this is the first year the Relay For Life event has been held in Richmond. We hope everyone is looking forward to next year!

For more information about Relay For Life visit cruk.org/relay or call 0300 123 1026

August 24, 2017