He also cycled to Paris & ran the New York marathon for the RHN where his wife is a patient
A man ended a year of fundraising on top of the world after climbing Mount Kilimanjaro.
Mike Shattock, 41, from Langtoft, began the Yellow Beetle Challenge in April to support the Royal Hospital for Neuro-Disability in Putney.
The hospital is caring for his wife Sam, who suffered a cardiac arrest in January 2010.
Last year Mike ran the New York Marathon and cycled from London to Paris and last week completed the third of his epic challenges by scaling Mount Kilimanjaro.
With the help of his friends and family Mike has so far raised more than £25,000 for the hospital.
He said: "The climb was definitely the hardest thing I have ever done in my life. It is very tough physically and mentally. But it was one of the most incredible things I have ever done in my life, it was amazing."
Mike, who works for Bakkavör Information Systems in Spalding, was joined by colleagues Charlie Woodward (pictured below with Mike)and Kathy and Tom Grant for the challenge.
Kathy and Tom could not quite reach the summit but after a five day climb Mike and Charlie reached the highest peak in Africa just after sunrise on Thursday last week.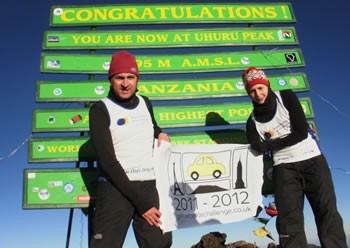 Mike added:"It was an unbelievable feeling when we got to the top. We saw the sun rise at 6.45am which was an incredible sight. To think that for a few seconds you are standing higher than anyone else in the whole of Africa is quite amazing."
Mike is now back home recovering and has just about got the feeling back into his big toes. He said: "I am glad to be home and really pleased to have done it. I am overwhelmed by the amount of support we have received over the past 12 months. It has been phenomenal. Thank you to everyone who has supported me and continues to support me."
Despite his gruelling year or the Yellow Beetle Challenge 2. To donate to his cause visit www.justgiving.com/yellowbeetlechallenge.
Article courtesy of Rutland & Stamford Mercury
Image courtesy of Mike Shattock
February 17, 2012