Coronavirus delays local charity fundraiser event


The Royal Hospital for Neuro-disability (RHN) has postponed their annual Gala Dinner due to the Coronavirus disease (COVID-19). The evening will now be held on Tuesday 20th October 2020. It will still be taking place at the Royal Automobile Club on Pall Mall, London.



The RAC Club - image RAC facebook

A spokesperson for the charity told this website: "Due to the severity of Coronavirus and the vulnerbility of our patients, we have postponed our Gala Dinner to October."
The RHN who are an independent medical charity (no. 205907) aim to raise funds through this Gala Dinner in order to provide specialist rehabilitation and long term care for people who, as a result of accident or illness, are living with the effects of severe brain injury.
The hospital would be delighted if you would like to support the RHN by taking a tableat the postponed event. On arrival guests will be greeted by a first class service into one of the world's foremost private members' club. After a champagne reception guests will enjoy an indulgent three course meal with fine wine, entertainment and a live auction where guests have the chance to bid for a selection of exclusive prizes and experiences. The Gala Dinner is a wonderful opportunity to host friends or clients in an impressive setting with great entertainment. Tables seat 10 guests for £1,500, individual tickets are also available.
Alternatively if you are unable to attend but could contribute in another way such as donating a potential prize or perhaps help sponsor the event, they would be extremely grateful. They are currently looking for donations towards the champagne reception. In return the RHN would be more than happy to list you on the event programme as a sponsor and feature you in their quarterly newsletter which goes out to 10,000+ people. Please contact events@rhn.org.uk or 020 8780 4565 for more information.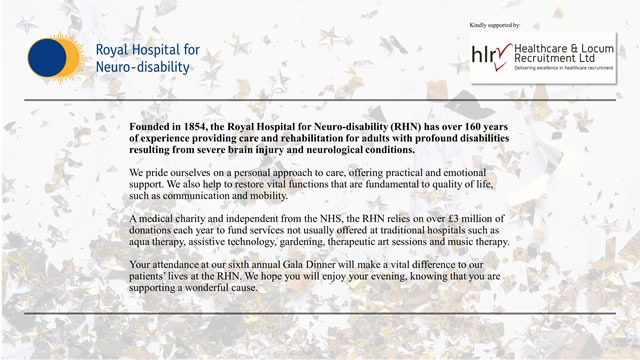 March 10, 2020