Royal Parks - Meet The Teams
---
Residents invited to Bushy Park & Richmond Park
Ever wondered what goes into maintaining a Royal Park? Throughout May, the park teams will be out and about in their parks, ready to answer your questions and talk about their work maintaining 5,000 acres of historic parkland.

The Royal Parks will become a new charity soon, and while visitors will not see much change in our parks, senior managers will also be on hand to any questions you might have.

In Bushy Park and Richmond Park, the times, dates and locations are: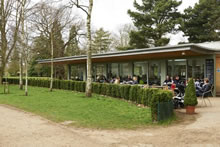 • Bushy Park
Friday, May 20, 12pm to 2pm
The Pheasantry Cafe






• Richmond Park
Monday, May 23, 4pm to 6pm
Pen Ponds Car Park

photo: Andrew Wilson
twitter.com/AndrewPics



There is no need to book, just join us at The Pheasantry Cafe or the Pen Ponds Car Park.


May 9, 2016