Get ready for 150 cyclists in the Prudential RideLondon-Surrey Classic
Cycling fans will see Sir Bradley Wiggins racing through Putney this weekend as the 2012 Tour de France winner and multiple Olympic gold medallist races in the Prudential RideLondon-Surrey Classic for the first time. He will be accompanied by 149 other elite cyclists.

Wiggins is a late addition to the Team Sky line-up for the Prudential RideLondon-Surrey Classic on Sunday 10 August, part of the Mayor of London's multi-award winning festival of cycling. He will be the first former Tour de France winner to ride in the event.
The race will see Wiggins return to the roads used for the time trial and road race events in London 2012, where he won Olympic time trial gold. It will be only his second appearance racing in London since the Games, having won the overall Tour of Britain on his previous visit to the city's streets last September.
It will start at the Olympic Park in Stratford at 1pm with route going through Richmond Park. The fastest cyclist are expected to arrive in Wimbledon at 17.04hrs with the slower members expected at 17.53 hrs. From there they will cycle down Putney Hill, over Putney Bridge and in to Fulham reaching the end on the Mall between 17.23 to 18.16hrs.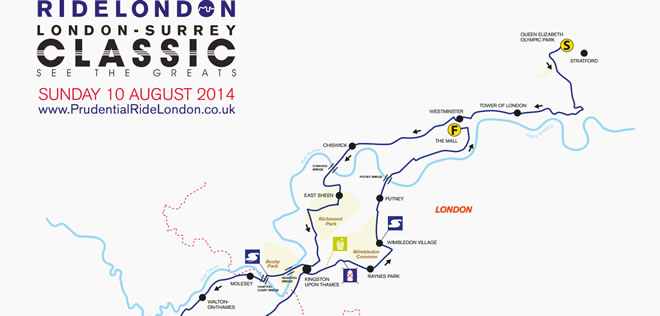 start and end of the race click here for full map

The following roads will be closed from 7.30am to 7pm.
Wimbledon Park Side SW19
Tibbet's Corner SW19
Tibbet's Ride SW15
Putney Hill SW15
Putney High Street SW15
Putney Bridge SW15
New Kingd Road SW6
Kings Road SW6
However there will be more cyclists passing through as amateur cyclists in the Prudential RideLondon-Surrey 100 will be cycling through west London on the outbound route, from Hyde Park Corner to Chiswick Bridge, at 06:30-10:00. On their return journey towards the finish
on The Mall, they will cross Putney Bridge and travel along Chelsea Embankment between 10:00 and 16:30.
Prudential RideLondon-Surrey Classic Race Director Mick Bennett said:"We are delighted to welcome Sir Bradley to Prudential RideLondon this weekend. He completes an already first-class line-up for the event. The Prudential RideLondon-Surrey Classic enjoys great support from spectators at the roadside across the route and this announcement means fans can now look forward to seeing one of the greatest ever British cyclists racing in the event."
Lining up alongside Wiggins will be 2012 world champion Philippe Gilbert, 2014 Tour de France top 10 finisher Laurens ten Dam, top sprinters Mark Renshaw, Alessandro Petacchi and Elia Viviani and several Commonwealth Games medallists, led by points race gold medallist Tom Scully and road race bronze medallist Scott Thwaites.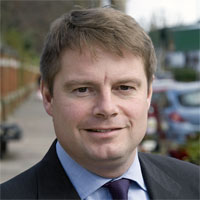 Wandsworth's deputy council leader Cllr Jonathan Cook: "This is a spectacular event but we have to recognise the impacts it will inevitably have on our transport network. The festival will involve significant disruption and we strongly advise local people to plan their travel well in advance. Putney will be the place to be on the Sunday as the amateur and professional riders come through the high street on their way back into central London . The town centre will be packed with cycling fans and it's a terrific place to come and soak up the atmosphere."
If residents have any questions about the event and its impacts on local transport they can call the Ride London Helpdesk on 0345 8949773, email helpdesk@ridelondon.co.uk or visit www.PrudentialRideLondon.co.uk.
Share your photos from the day with your neighbours, email your local editor editor@fulhamsw6.com, editor@putneysw15.com, editor@wimbledonsw19.com
August 7, 2014