Local Charity Supports Teenage Mental Health
---
stem4 held a successful Student Conference in association with Ernest Bevin College
Award winning Wimbledon charity, stem4, aimed specifically at supporting teenage mental health, ran a very successful Student Conference in association with Ernest Bevin College. Schools that attended the Conference included St Cecilia's School, Ricards Lodge, Raynes Park High, Ark Putney Academy, Bolingbroke Academy and The Elmgreen School.

The Conference aimed to inform how good mental health can be achieved and to challenge any pre-conceived ideas on this topic. Students learned about the early signs of mental ill health, strategies to boost resilience and how to support their own and their peers' mental health.

The importance of mental health education in schools has been highlighted in research due to its impact on prevention. According to NHS Digital statistics of referrals to the NHS in 2017, 1 in 8 of children and young people aged 5 to 19 years old present with at least one diagnoseable mental ill health condition so early intervention is an essential step.

The 2019 stem4 Student Conference, brought together a range of young people and provided them with an opportunity to express, in their own words, a message to their peers about the importance of looking after their mental health and to understand what steps can be taken to stop the growth of mental illness right from the start.

Speakers included:
Dr Nihara Krause, Consultant Clinical Psychologist, CEO and Founder of stem4, Iain Maitland, author and his son Michael who is a tattoo artist, whilst the students also heard specially recorded messages from stem4 ambassadors Georgina Campbell, actress and Rosie Day, actress.

Focusing on early identification and intervention, the Conference covered the four areas of mental health that stem4 offer support in - eating disorders; anxiety and depression; self-harm and addiction; - providing evidence-based information to promote best practice and share common experiences.

Comments and feedback following the Conference were very positive with 88% of students saying that the Conference increased their awareness of the early signs of mental health issues whilst 84% said that the Conference helped them to know what early stems to take to deal positively with mental health problems.

All participating schools are to select students to share their learning through an assembly which they will invite the Education Co-ordinator of stem4, Sarah Sterne, to attend and support.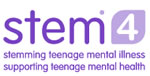 stem4 is a Wimbledon based, award winning charity that supports teenage mental health through mental health promotion, provides evidence based mental health education, builds resilience, enhances motivation to change and signposts to early intervention. stem4 focuses on commonly occurring mental health issues in teenagers including eating disorders, anxiety, depression, self-harm and addiction. stem4 works with students, parents and teachers in secondary schools as well as health professionals including GPs and school nurses through their conferences and their digitally delivered workshops suitable for PHSE in schools and is included in the Royal College of GP toolkit. The stem4 Calm Harm app helps teenagers manage the urge to self-harm and has currently over half a million downloads across the world. It is included in the NHS Apps library; whilst the Clear Fear app helps children and young people manage anxiety. Both can be downloaded free from App Store and Google Play.





May 8, 2019