School holidays will see Super Cycling Man in his underpants for charity
Will Hodson is a primary school teacher at Brandlehow Primary School in East Putney. He leads an extraordinary double life, as when he jumps on his bike, he becomes SUPER CYCLING MAN!
In summer 2011 Will cycled 4000km from his home in Tooting to Turkey raising over £5000 for charity. Will is now determined to continue cycling the world in his school holidays with the following plan:
Summer 2013 - Turkey to Turkmenistan
Summer 2014 - Turkmenistan to Tibet
Summer 2015 - Tibet to Thailand
Summer 2016 - Thailand to Tokyo
Summer 2017 - Tokyo to Texas
Summer 2018 - Texas to Tooting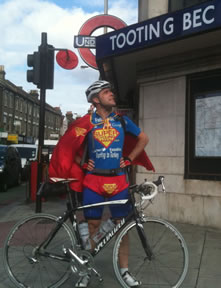 This will be be one complete loop of the planet...in his pants! SuperCyclingMan aims to raise £100,000 for charity and hopes to inspire children (and adults!) to get out on their bikes and have adventure of their own!

On Monday, 10th June 2013 (7pm to 10pm) there will be a fundraising night with a difference.
It will be a great night with:
* inspiring talks from Will & adventure superhero Alastair Humphreys. Alastair was listed by the National Geographic as one of their "Adventurers of the Year" of 2011.
* a delicious BBQ supper,
* a bar,
* a raffle with amazing prizes including a signed bike jersey from record-breaking round the world cyclist Mark Beaumont,
* an amazing film never screened before in the UK...It's a 1 hour film all about the insane, heroic world of Ultra-cycling - the sport of cycling thousands of miles across/around whole countries and continents! If you're passionate about cycling, you'll love it...if you're just passionate about life, you'll love it too! Have a sneak peak at the trailer at vimeo.com/32038020

....PLUS FREE POPCORN & 1 FREE drink! All for £20.

All the proceeds from the evening are being split 50:50 between 5 wonderful charities and helping fund SuperCyclingMan's plans to cycle round the world in his superhero cape and pants.
For more info and to book tickets, go to: wecanbeheroesnight10june2013.eventbrite.co.uk


May 21, 2013