Make the most of London Tree Week 28 May - 5 June 2016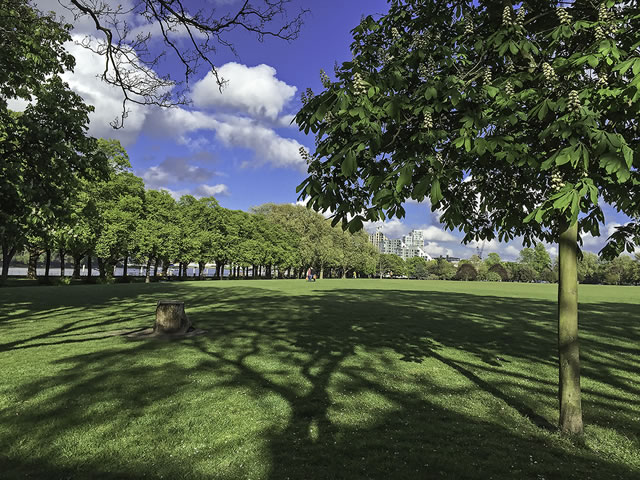 Wandsworth Park - Andrew Wilson @twitter.com/AndrewPics
Come to Wandsworth Park during London Tree Week (starting on Saturday 28th May.) London Tree Week is a week when the city can celebrate and explore London's trees and woodlands with a series of special events.
There are tree walks and talks, exhibitions, and family activites. The full events calendar can be viewed on our events page. London Tree Week is part of the RE:LEAF partnership's work to protect and increase the number of trees in London. It is co-ordinated by the environment team at the Greater London Authority.
The Friends of Wandsworth Park will have labels on every one of the 40 + species found in the park. Find out more about the FoWP Tree App, which has full information on each species.

For more info: friendsofwandsworthpark@gmail.com

Wandsworth Park is a Grade II listed Edwardian park laid out with ornamental shrubberies and sports areas, blends formality with informality. Magnificent avenue of London planes provides shade and a view of the wide open river - opportunity to watch sports, birds and passing boats. By the play area and café is an up-to-date putting green.

London Tree Week photography competition
City Hall is calling on London's amateur photographers to get out and take pictures of London's trees and woodlands. Share your photos on Instagram or Twitter using #LondonCanopy and #LondonTreeWeek. Every day, they will pick a 'photo of the day' and finally, will award a prize for 'photo of the week'.
What do you need to do?
1) Go outside (or maybe you've just got a great zoom and can take part from your sofa!) and look at London's trees from a new angle. We want to see #LondonCanopy images that encourage Londoners to explore their woodlands. Your photos should clearly show the beauty and value of London's trees. For inspiration, you could go on a London Tree Week walking event.
2) Take a photo in London during #LondonTreeWeek (Saturday 28 May – Sunday 5 June 2016).
3) Share the photo on Instagram or Twitter using #LondonCanopy. Add a caption of where and when the photo was taken.
Photo of the day
Keep an eye on @LDN_gov on Instagram. That's where we'll be sharing our photo of the day at the end of each day. No prizes for this, just the glory!
Photo of the week
On Monday 6 June, influential Instagrammer @PrettyCItyLondon will judge the #LondonCanopy #LondonTreeWeek photo of the week. We'll share this on @LDN_gov on Instagram and on the Storify below.
The prizes for #LondonTreeWeek photo of the week are:

* a copy of Edward Parker's book 'Photographing Trees', kindly donated by Kew Publishing
* a copy of the TimeOut book 'The Great Trees of London', kindly donated by Trees for Cities
* a turned wooden bowl
* a framed print of your winning photo and the chance to collect it from City Hall

Please only tweet or Instagram photos that are your own original works and were taken during London Tree Week 2016 (28 May-5 June 2015).
Tree Charter
Posting a photo showing the positive impact of London trees on your life and the urban landscape will help to build the Charter for Trees, Woods and People. Use #TreeCharter to share your photo on the treecharter.uk website!
May 28, 2016