Screen Classics Raise Funds For Nurses
---
Almost £6000 raised with the Trinity Hospice Summer Cinema Series
For the fifth year running Trinity Hospice in Clapham opened its doors to the public for its hugely popular Summer Cinema Series.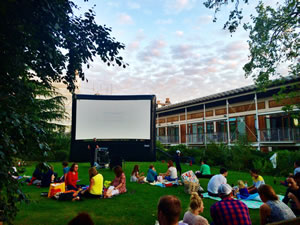 On 19, 20 and 21 August over 260 people flocked to Trinity's award winning gardens for screenings of three classic films as chosen by their supporters; The Breakfast Club, Casablanca and Mrs Doubtfire.
This year's series raised almost £6,000 for Trinity, with all profits going towards supporting Trinity's nurses, who care for over 1,500 terminally ill Londoners a year. As a charity Trinity must raise £8million annually to continue providing its specialist care to patients and their families, free of charge.
Trinity would like to thank everyone who attended the series and all the volunteers who helped make each night a success. Trinity would also like to thank Davy's & Co., Asda, Waitrose, Gail's, The Old Post Office Bakery, Jacks at the Junction, JZD, Lee's Coffeehouse, The Butcher and Grill
Lotus Bar and The Stonhouse for kindly donating goodies and prizes, enabling Trinity to raise even more over the three nights.


September 1, 2015