Wandsworth Friends of Royal Trinity Hospice invite you along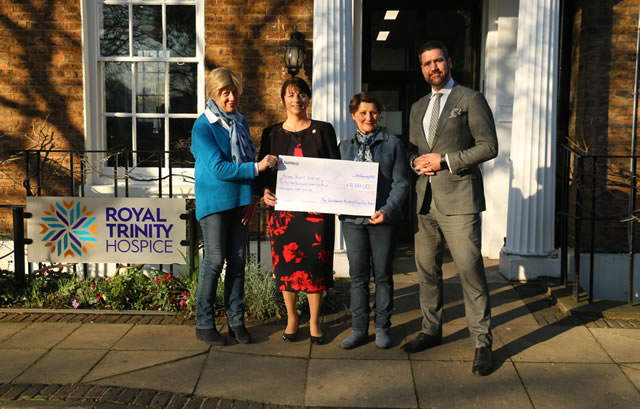 Cheque being presented for funds raised from previous fair
The Wandsworth Friends of Royal Trinity Hospice have held Christmas fairs which have raised approximately £275,000 for the Hospice over the last decade.
This year will be different with the fair to be held virtually from Saturday 14 November through to Saturday 22 November.
You can attend by visiting the new web site where you will be able to shop at over 50 stalls who will be giving 10% of their sales to the Hospice.
The Wandsworth Friends of Royal Trinity Hospice Christmas Fair will, as always, run their prize draw and this year there is an online auction.
Royal Trinity Hospice is England's oldest hospice and the local hospice for central and south west London.
Through expert care and support, its team helps patients to stay comfortable, active, independent, mobile and well for longer by supporting their emotional, physical, practical and spiritual needs, whatever they may be.
Trinity cares for 2,500 patients every year, providing free expert end of life and palliative care to adults with life-limiting conditions. The majority of patients receive care wherever they call home – their own homes, care homes and hostels across central and south west London. The rest are cared for in an inpatient unit at Clapham.
In 2019 Trinity celebrated a care rating of "outstanding" from the CQC – the highest possible rating from the health and social care regulator.
Visit its web site to find out more.

October 30, 2020