Christmas Date For Your Diary
---
Wandsworth Friends of Trinity Hospice confirm Christmas Fair dates
The Wandsworth Friends of Trinity Hospice are delighted to announce that their popular annual Christmas Fair will once again return to the beautiful St Luke's Church, in Ramsden Road, London SW12. The dates for your diary are Tuesday 17 November, 6.30pm to 9.30pm and Wednesday 18 November, 8.30am to 3.30pm.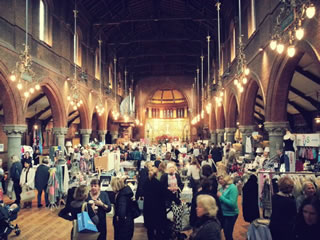 Last year's Fair raised more than £22,000 for local charity Trinity Hospice to sponsor a Trinity Nurse for six months. The Committee is so grateful to all those that helped to make the Fair such a success and everyone that came to support Trinity Hospice.
The 2015 Fair is set to be a fantastic shopping experience, with over 40 stalls including some old favorites and many new ones to tempt everyone doing their Christmas shopping.
To date those confirmed are:
Abahna – Natural luxury bath, body and home fragrances
Apatchy – Gifts for teenagers that can be personalized instantly
Bantam Knits – Hand-dyed cashmere fashion accessories, printed cushions, prints and cards
Bird of Paradise – Italian Cashmere/Silk knitwear and fur gilets and other accessories
Boho Betty – Leather and Suede wrap bracelets, Aztec cuffs and necklaces
Box o' Sox - Mostly for Men, a cornucopia of colour
Cara - Contemporary Scandinavian home accessories and inspiring gifts
C Solo Jewellery - Handmade jewellery from Spain in leather and cotton
Clockhouse – Large selection of Dents gloves and accessories
Flutterby – 2015 collection of stylish original jewellery £10 - £395
Foreman and Dring – Lifestyle collection of home accessories, vintage painted furniture and gifts for all ages
Funky Bunch – Fabulous faux floral stems and plants
Holly Cross – Greetings cards, gift wrap and stationery products for Christmas and everyday from Phoenix Trading
Ingo Fincke Gallery – High quality prints for children
Juniper Trading – Portable chargers, funky speakers, water purifiers for travellers and dog collars and leads
Lulu B Ltd – A collection of gold and silver semi-precious jewellery
Melem Bags – Beautiful Italian leather handbags and clutches
Milly Green – Beautifully designed contemporary homeware and kitchenware and children's Doodlemats and Tuckboxes
Oils From Moroc.Co – 100% pure organic Argan Oil for skin and hair
Ollie's Shop – Fun and affordable gifts for teenagers
Organised World - Simple organisational items for the home
PJ's – Colourful cotton pyjama bottoms for all ages
Rosy Fridays – Ladies Italian and French fashion and accessories
Simply Fluff – Beautiful gift packaging solutions, boxed candle sets and boxed ceramic gifts
So Pretty Limited - Pretty clothes for girls who love to dress up
Sorbet Ltd – Hammam towels, throws and the new sorbet beach clutch bag!
St Bert's – Cool clothing for children aged 4 – 12
Susie P Accessories – Stunning scarves, hats, gloves and fabulous faux fur
Swedish House At Home – Scandinavian lifestyle and household products, made responsibly with care for the environment at the heart
The Book People – Bestselling and popular titles up to 75% off RRP
The Infusionist – Handmade organic skincare and natural aromatherapy candles
Three Grey – Old, recycled and new pieces for the home
Toosh Clothing - Loungewear that looks great and feels fabulous
Top Note Design – Original, handmade gifts for wine lovers
If you would like to enquire about taking a stall at this event please contact trinityvendors@gmail.com
The Silent Auction and Christmas Lucky Dip will also be back and the Committee are currently looking for contributions for both – if you are able to help, please contact silentauction@trinityhospicechristmasfair.org
Lucinda Harding-Rolls, Chair of the Committee, is delighted that Knight Frank have again agreed to be the main sponsor again this year so everything raised through this event can go directly towards supporting patients at Trinity:
"Trinity is the oldest surviving hospice in the UK and each year provides specialist care for over 2,000 terminally ill patients in central, and south-west London. The Christmas Fair raises important funds for this wonderful local charity, which needs to raise £7 million each year to continue its vital work in the community. We are aiming to raise £24,000 this year. So please put the date in your diary now and come and support this great cause!"
July 13, 2015