Extinction Rebellion 'Gate' Traffic on A3 West Hill
---
Activists say action aims to highlight issue of idling traffic whilst serving cake !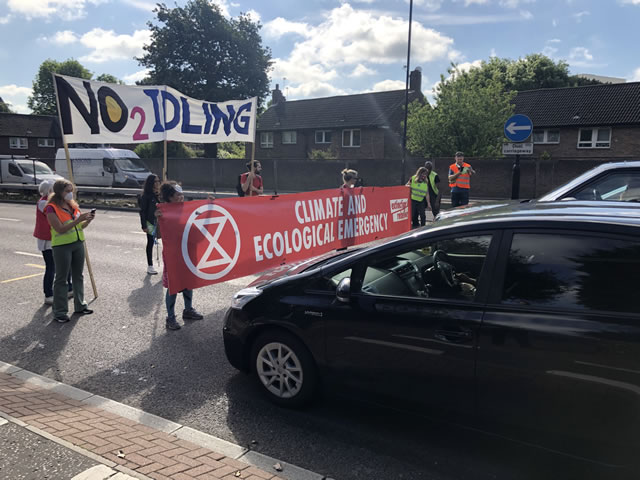 During morning rush hour between 8-10am on Thursday (20 June), activists from Extinction Rebellion 'gated' traffic on the A3 on Putney / Wandsworth border.
They say that took this action to highlight the problem of air pollution from traffic.

Gating is a method of traffic management – traffic is stopped for a few minutes, ask drivers to switch off their engines and then allow the cars to go once the section of road ahead is clear. This was done during the Olympic Games to reduce traffic congestion near stadiums.

Organisers told this website: "This isn't about disruption – each vehicle caught up with the vehicle that was idling in front of them before the traffic was held. Instead, it's about reducing vehicle emissions and air pollution exposure – especially for young children at the local nursery and the 1100 children at the local school".
The action was intended to show an alternative to repetitively accelerating, breaking and idling, which the activists say is the worst way to drive a vehicle, exacerbating the problem of poor quality air. During peak times on this small section of the A3, vehicles accelerate and brake 40 times and idle for 10 minutes to drive one mile, causing EU pollution limits to be breeched.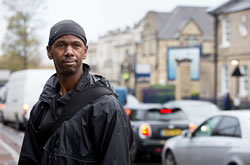 David Smith, local resident, father and air pollution campaigner at Little Ninja, explains, "The way vehicles are driven is what produces the highest pollution levels in congested traffic. It's not only the exhaust emissions - every time a vehicle is stopped, tiny bits of polluting plastic, metal, rubber and oil are released from the brake pads, tires, suspension and road surface wear.

"Every morning, at the time children travel to nursery or school, traffic is slowed almost to a standstill on West Hill and many similar roads. On our busiest roads, the usual two to three minutes to drive one mile is increased to around sixteen minutes. There's a constant line of HGVs, coaches, lorries, trucks and cars, each accelerating and braking over forty times and idling for around twelve minutes per mile."

"Great ideas like School Streets, Low Traffic Neighbourhoods and Filtered Permeability do not apply to schools on busy main roads and our children's health cannot wait for the Road to Zero or EV revolution. On West Hill we are outside the 2021 ULEZ expansion".

Wandsworth Green Party member Di McCann attended the action and told this website: ""As an active member of Extinction Rebellion Wandsworth, I was proud to help organise and take part in their first action on Clean Air Day, highlighting the extreme levels of air pollution on the West Hill bottleneck between Tibbet's Corner and the A205 into Wandsworth.
"Most drivers were supportive - and many of them were shocked by our Ten Facts About Idling leaflet (attached). Offers of homemade cake and biscuits helped friendly conversations! We are hopeful our action will show Transport for London that 'gating' - keeping traffic flowing along key routes - and a campaign asking drivers to switch off when stationary could rapidly reduce toxic air pollution in the short term."




Why West Hill? David explains: "Air pollution is particularly high on major arterial roads that become narrow residential streets like the three lanes of A3 traffic bottlenecking into a single lane to go down West Hill.
"We were stopping congested traffic on West Hill and asking drivers to switch off their engines for six minutes, before leaving the road to allow them to catch up with the car in front. This was an opportunity to provide a glimpse of what is possible if TfL cared about children's health even a small fraction as much as we parents do. It's low cost, reduces air pollution and climate emissions.
"TfL are responsible for the most polluted roads in the UK yet do not acknowledge the serious impact to children's health or the fatalities due to the lack of traffic management on the roads they manage.

"Air pollution is a public health emergency. The UK has declare a climate emergency. Please, please some one tell TfL to do their job and start protecting the people who live, travel, work and attend schools on the polluted roads they manage."

June 22, 2019