When Gregg Met Annabel A Putney Restaurant Was Reborn
---
Meeting Gregg Wallace & his new business partner Annabel Lawrence at Wallace & Co

Gregg what do you believe is missing from Putney gastronomically? – it certainly is getting lots of new names this summer: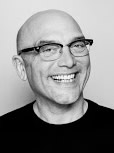 G: Sadly, although I have lived in Putney for over two years, apart from my place, I never eat out locally. I am always in the West End, although now this is going on the site, I am happy to accept invitations.

What would your favourite meal at Wallace & Co be?:
G: I love to sit up at the bar drinking wines by the glass and eating the tasting plates. My favourites are the sticky ribs and the salt cod fritters.

Masterchef is still a great hit on TV with one runner up being a Putney resident - Tom Whitaker - who is now making his career in food. Filmed locally in Wandsworth, do you see the programme ever running out of steam?:
G: I suppose it has to come to an end at some point but I have just signed a 3 year contract, so it won't be for a while.

In an interview last year with Rich Pelley at the Guardian you described yourself as: "I'm Gregg Wallace. I'm the bald fat bloke off MasterChef". Obviously you are known as a gregarious TV personality – where does the restaurant owner Gregg Wallace fit in the picture?
G: I just wanted to give it a go to see if I could make a success of it. TV is my love and what I make a living from, I just wanted to find out whether the place I would like to go too would also be the place that my neighbours would like to go to.

Wallace & Co has become popular with many but has also had some critics since its doors opened in 2010 – what have you done to improve the diners' experience?
G: We have had a complete overhaul since Annabel has come along, we have had a good hard look at everything we do. Hopefully we have kept the good, but more importantly, we have got rid of the bad. The first and most important improvement is the quality and offer of the food. The change here has been radical. From top to bottom, the menu offers real quality.

Service in the past has been an issue but now it's far more efficient and friendlier. I finally have a café that I am proud to call my own.

You have always stressed the importance of fresh fruit and vegetables, locally-grown where possible. Is it getting easier or more difficult to find local suppliers?
G: Because of Google searches for small producers is getting easier and I am a champion of local produce but I would urge caution. Discussing the Nations diet is an enormous topic and I don' t want to be an evangelist or come across as the equivalent of food BNP. There are many things we can't grow in this country, where would we be without lemons or bananas. I would however, urge people to buy fresh in season and preserved when out of season, i.e. tinned, frozen, salted or pickled. We have a fine heritage of all of these preservation techniques and shouldn't get snotty about it.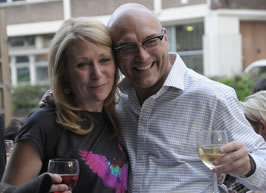 How does Annabel fit in the picture?
G: Annabel is the boss. It's as much her place now as it is mine. She has the knowledge and the passion, she lives locally and she has got the time to spend there. I am very proud of what Wallace & Co has become since her arrival and there is no way I would consider trying to run the place without her now.


Annabel & Gregg celebrate the new improved Wallace & Co



Annabel, You already run a successful catering company Green Fig Ltd., www.greenfig.co.uk How & why did you get involved with Gregg & Wallace & Co?
A: Prior to Green Fig I was very much in the thick of restaurant management with establishments such as Bluebird and Smiths of Smithfield. I set up Green Fig after starting a family as it offered much more flexibility. To my delight it has continued to go from strength to strength and I've loved every minute. However, earlier in the year I decided it was time to go back into the restaurant trade and started looking for a local café. Through John Torode I met Gregg and here we are! Wallace and Co is a great site that is now finally realising its potential. Later in the year we will be offering a catering service too

As a Putney resident, where do you love to eat and drink? Other than W&C of course!
A: I love to eat out particularly at independents, unfortunately Putney has a shortfall here. There are of course 'the chains' and I regularly eat at Wagamamas and The Hare and Tortoise with my kids, but in terms of going out to eat with my husband or friends I find it lacking. Nonetheless if I had to choose, both Isola Del Sole in Lacy Road and Ma Goa on the Upper Richmond Road really work for me..

What do you feel Wallace & Co offers the local diner, with so many eateries in the SW15 & SW18 area?
A: Agreed there are many spots, but they're just not that interesting! Wallace and Co offers the diner an independent place to eat, drink or both! You could spend all day there if you had time to enjoy breakfast, lunch and dinner. We offer great fresh food in lovely surroundings at a reasonable price, along with a fabulous outside space for when the sun shines! ….and finally we can't forget Gregg, who is regularly on site to ensure everything is meeting his standards whilst entertaining the customers with his witty banter.
Lunch for £8!
Enjoy a main course and glass of wine, a beer or a soft drink for just £8
Available Monday – Friday 12-4pm

July 17, 2013