Battersea Park is hosting next month's inaugural Formula E race weekend and 2,000 local residents will be given free tickets to watch the state-of-the-art electric racing cars compete on a 1.8 mile circuit that uses the park's existing perimeter road.
The 2,000 complimentary tickets will be offered to residents who live near the park, including those from the Doddington, Ethelburga and Latchmere housing estates, and also to pupils who attend schools in the area, members of local amenity groups and some Battersea-based charities.
London's two races will be held on the weekend of June 27 and 28 and mark the climax of the current Formula E championship season, which has seen the drivers compete in Berlin, Beijing, Buenos Aires, Moscow, Miami and Monaco.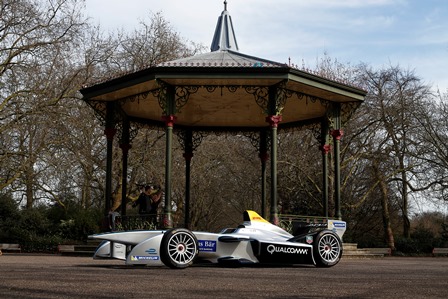 The racing cars use cutting edge electric motors that produce virtually no noise and no harmful emissions. A full speed test drive using a fully-fledged Formula E race car took place in the park at 5am one morning last August and went unnoticed – even by those living just yards away.
The Council says that staging the London races in Battersea Park means that over the next five years an estimated £1m will be available to fund improvements to the park and pay its ongoing maintenance costs. In addition the race organisers have funded the resurfacing of the previously uneven and rutted Rosary car park and repaired other carriageway defects.
Councillors gave the event the green light after the Heritage Lottery Fund (HLF) agreed that the park was a suitable venue because its important historical features would not be damaged or compromised. Approval from the HLF was a key consideration because it paid for an extensive range of improvements to Battersea Park between 1998 and 2003.
Councillors have also decided that a section of the park must be kept open for non-ticket holders – so that local people who have no interest in the races but want to visit the park that weekend can still do so.
The race organisers have an action plan in place for the speedy installation and removal of its infrastructure. This process should take a few days and the park will remain open to the public throughout.
For more information about Formula E, including updates on this year's championship and details of how to purchase tickets for the London races, click here.