Can you help make a difference through fostering?
Foster Care Fortnight is a national campaign run by The Fostering Network to raise the profile of fostering and to show how foster care transforms lives.
Wandsworth Council says it is always in need of more foster carers, especially people willing to care for teenagers and siblings.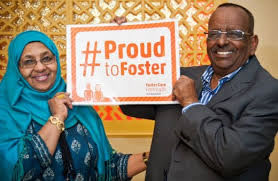 Without more foster families in London coming forward during 2018 - especially those who could foster teens or sibling groups - some children will find themselves living a long way from their siblings, family, friends and school.
People interested in finding out if fostering is for them can meet the Wandsworth Council fostering team at one of three town hall events on May 17, May 24 or June 21. Book your place for an informal chat to find out if fostering is for you, and to find out about the fees and extensive support available.
Foster carers do not need to own their own home, but they do need a spare room. You can be married, in a civil partnership, or single and Wandsworth's carers come from all cultural and ethnic backgrounds. Single foster carers, or at least one member of a couple, must be aged between 25 and 60 and be in good health.
If you can't make one of the events but are still interested, you can chat to the team on (020) 8871 6666 or fill in the form at www.wandsworth.gov.uk/fostering to request a one-to-one meeting.

May 10, 2018