The Great British Beer Festival Is Coming Soon
The UK's biggest beer festival is back at Olympia from August 11-15.
This year the Great British Beer Festival (GBBF), which takes place annually, has a 'discovery' theme and will be selling beer from 27 different bars.
Organised by volunteers from the Campaign for Real Ale (CAMRA), it will showcase over 900 real ales, international beers, ciders and perries. Also on show will be the beers that are competing in the Champion Beer of Britain competition including the lucky beer named Supreme Champion.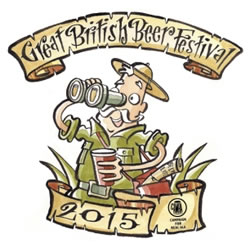 Over 55,000 people are expected to attend the weeklong event, which this year will feature more than 350 British breweries alongside international brews.
The event's Hat Day will also be taking place again this year on Thursday (13th), with free pints and other prizes being given out around the festival for the most inventive hats and an overall winner taking away a top prize.
GBBF is open from 12 noon-10.30pm on Wednesday-Friday (12th-14th), from 5pm-10.30pm on Tuesday (11th) and 11am-6.30pm on Saturday (15th).
July 27, 2015