Two weeks of insight into the borough's unique history


Battersea Power Station in 1937
The eighth annual Wandsworth Heritage Festival has begun and runs until June 11.
This year's festival features talks, walks, workshops, and exhibitions celebrating the heritage of our borough. Many events highlight Wandsworth's rich industrial past, covering topics such as the railway and how it came to transform and define the borough and its occupants; the marks left by industry on the landscape and the river; and the fate of industrial sites and buildings no longer in use.
Highlights include:
A walk to look for evidence of industrial landmarks featured in Whistler's paintings of the Thames riverside
A workshop where you can learn about the textile industry of the Wandle Valley and have a go at printing your own patterns
A talk exploring the many schemes proposed for the Battersea Power Station since it was decommissioned.
Library sessions on how fiction shapes our lives
A workshop allowing children to handle industrial objects from Wandsworth's past
Several walks exploring some of Wandsworth's most appealing parks and gardens.
Many local groups and societies help to document and protect Wandsworth's heritage and the festival provides an opportunity for them to showcase their work and recruit new members. The festival is organised by charitable social enterprise GLL, which runs library and heritage services on behalf of Wandsworth Council.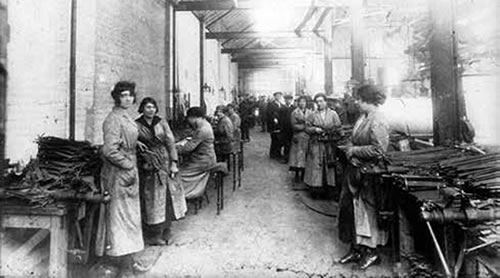 The Aluminium Plant and Vessel Co c1910
Download the Wandsworth Heritage Festival 2017 programme. Copies of the programme are also available from local libraries and other public buildings in Wandsworth.
For more information call (020) 7223 2334 or email heritage@gll.org
You can also view the Heritage Service's online archive catalogue here

May 31, 2017