Mayor Boris Johnson has given his backing to a proposed foot and cycle bridge linking Fulham and Battersea.
The Diamond Jubilee Footbridge, which would extend from Imperial Wharf in Fulham to Lombard Wharf in Battersea, gained planning permission from Wandsworth and Hammersmith and Fulham Councils three years ago.
Now it is among 13 river bridges and tunnels included in Connecting the Capital, a "bold vision to transform cross-river travel in London" which was unveiled the Mayor this week.
The report shows how the proposed crossings, from Fulham in the west to Dartford in the east, will support the needs of London's rapidly growing population, which is set to rise from 8.6 million now to 10 million by 2030.
Boris Johnson MP, said: " Building a series of new bridges and tunnels across the Thames is essential for the future prosperity of our rapidly-growing city.
" By creating more links between the north and south of the river, we won't just improve day-to-day travelling across the Capital, we'll unlock areas for development and create thousands of jobs and homes.
" From Fulham in the west to Dartford in the east, this is a vital package of crossings that will drive economic growth and get more people walking, cycling and on to public transport."
The report says subject to funding, the new crossings will be progressed across London to be delivered between now and 2050. The Diamond Jubilee is the most westerly bridge,withthe majority planned for in east London, where population growth will be highest.
Battersea based architects One world design plan to build the Diamond Jubilee Footbridge close to Chelsea Harbour Pier, where the Queen boarded her barge during her jubilee celebrations.
If the plans comes to fruition, the free-standing bridge will be 18.4m high and stretch 170m across the River Thames, just west of the existing Grade II* listed railway bridge.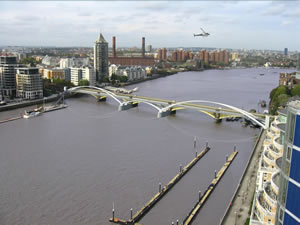 This week the team at One world design are celebrating the news, tweeting @OWD_architects:
" Definite tangible progress ... exciting times. The bridge is becoming real!"

You can see more images of the proposed bridge at the practice's website.
November 20, 2012