Coroner believes Latymer Upper rowing coach's death was an accident
Michael Hill, rowing coach at Latymer Upper School who drowned a year ago after falling in the Thames near Putney Embankment, got into a boat that was already "taking on water", according to the Evening Standard.
Michael, 48 was due to coach a team from Thames Rowing Club, in Putney, when he fell in on February 2, 2015.
His motorised boat was found circling on the river but his body was not recovered until five weeks later in March 8, when it was found close to Putney Bridge.
Coroner Shirley Radcliffe ruled at Westminster coroner's court that Mr Hill died of immersion in the water with heart disease a secondary factor. She said: " I believe it was an accident."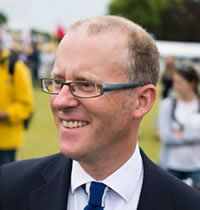 Fellow coach Dustyn Butler told Westminster coroner's court that Mr Hill found a fault on the launch on the evening of February 2.
"He told me it was taking on water. I ran to get a new bumper but when I came back he said he had sorted it out and put the bumper on," he said.
Mr Butler then went off to train his group, presuming Mr Hill would catch up.
Jogger Richard Craig-Mcfeely told the hearing: " I could hear Mr Hill shouting 'I'm drowning'. He must have shouted it at least five times."
He and two student rowers tried to go to Mr Hill's aid but could not find him in the dark.
The father of three, from Leeds, was an experienced coach who moved to London in 2012 to work at Latymer Upper School in Hammersmith.
The boat was examined by Steve Rushbrook, a deputy harbour-master, who found that despite an anomaly with the gear position, it was seaworthy and the bumper had been fixed.
The court heard the kill cord, which is attached to the driver and cuts the engine if they fall overboard, had not been attached to Mr Hill. Mr Rushbrook said it was in good condition.
After his disappearance, Latymer Upper School paid tribute to its "much loved and respected" rowing coach.
On its website the Hammersmith school said: " Our thoughts are with the family and friends of Michael Hill, a much loved and respected member of our rowing coach team who has been missing since the evening of Monday 2nd February. "
Upper Latymer Head, David Goodhew said: " This is an extremely distressing time for all at the School – in particular Michael's colleagues in the boat club and pupil crews who make up the close-knit rowing community at Latymer Upper School. Our thoughts and prayers go out to his family at this terrible time."
Colleagues from the world of rowing also paid tribute to Michael and sent sympathy to his family.
British Rowing chair Annamarie Phelps said: " Michael was a hugely popular figure among the rowing community along the Tideway and his enthusiasm for coaching always shone through. On behalf of British Rowing, our condolences are with Michael's family, the school and clubs at this sad time. He is much missed."
Amy Fenton, a colleague of Michael's in London Rowing Club said: " Michael will be dearly missed by those who had the pleasure of training under his direction at London and by his very many friends, pupils and colleagues within the wider club and rowing community.
" Our thoughts and deepest sympathies are extended to Michael's family, in particular his three children; Christian (a talented rower himself), Sam and Emily of whom he was an immensely proud father, to their mother Peridot, and to his partner Sara and her family."

February 11, 2016