Four Councils Unite To Curb 'Delivery Pollution'
---
Wandsworth joins forces with other Councils to manage vehicle movement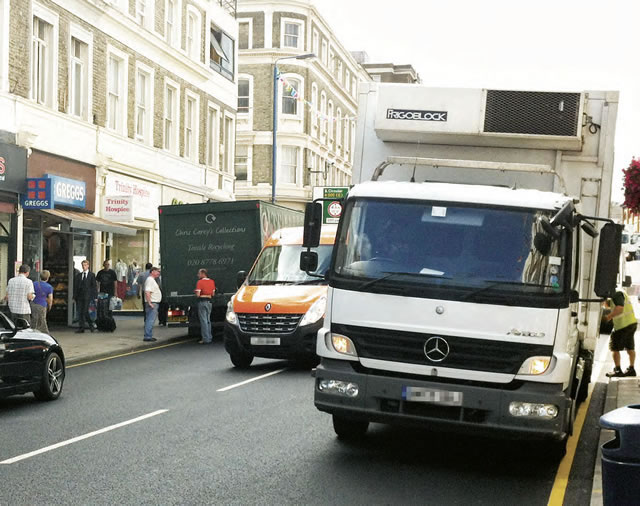 Despite daytime ban some companies still deliver on Putney High Street
Low Emission Logistics is a new partnership initiative between four London councils which aims to reduce pollution emissions from delivery vehicles.





By working alongside Southwark, Croydon and Lambeth, Wandsworth Council believes thay can take a more wide-reaching and holistic approach to managing vehicle movements across south London.

The project, part of Wandsworth's ongoing commitment to cleaner air in the borough, is funded by the Mayor's Air Quality Fund. The scheme aims to reduce nitrogen dioxide emissions from both local authority and business deliveries by 40 per cent through better coordination and changing purchasing behaviour.

Low Emissions Logistics also seeks to work in partnership with local businesses to improve air quality and protect public health.

Businesses will be encouraged to work collaboratively to share suppliers and utilise local suppliers. By taking these steps, businesses could seek to benefit from greater purchasing power and bulk savings.

A feasibility study will examine the case for setting up a consolidation centre which could be used by the four councils and local businesses.


Deputy council leader Jonathan Cook said:
"We are committed to creating cleaner air in Wandsworth and this project is another important step. By working in partnership with other councils, local businesses and residents, we can take a united and rounded approach to reducing delivery vehicle traffic on our roads. Businesses that take part also stand to benefit from the positive PR that comes from making a clear commitment to reducing their emissions."

This initiative comes after a significant fall in nitrogen dioxide pollution episodes was recorded on Putney High Street following a major campaign to upgrade the local bus fleet.

Low Emissions Logistics is one of many active steps to improve air quality currently being pursued by Wandsworth Council. These measures include:

• The installation of new air quality monitoring stations (like the ones in Putney) in Tooting, and Clapham Junction to further assess air quality in these areas.
• A ban on day-time deliveries on Putney High Street.
• A rolling programme of environmental theatre productions in local schools to teach children how their travel choices affect air quality.
• Helping schools develop 'school travel plans' which reduce the number of cars used on the school run through initiatives like 'walking buses' and car pools.
• Providing free vehicle emission checks in public places like supermarket car parks. The popular programme has offered residents the chance to check if their car will pass its next MOT and raise awareness about harmful vehicle emissions.
• Championing car clubs which dramatically reduce total vehicle use and take older, more polluting cars off the road. Wandsworth now has the highest car club membership in London.
• Free bike safety lessons for children and adults to give more residents the confidence and skills they need to start cycling.
• 'Dr Bike' cycle surgeries promote cycling and teach residents basic maintenance skills.
• Electric vehicle charging points have been installed in key locations which enable residents to switch over to low emission electric vehicles.
• A free airTEXT messaging service warns residents when high pollution levels are forecast.
• The council promotes walking through a range of public health campaigns and smarter travel awareness schemes.
• A series of investment schemes have made the borough's town centres more pedestrian friendly including projects in Clapham Junction, Southfields, Putney and Earlsfield.
• Lobbying for higher capacity rail, bus, riverbus and tube services so more residents can switch from cars to public transport.
• The council's Smarter Driving campaign encourages drivers to take simple steps to reduce their emissions like inflating tires.

September 20, 2016