Cyclist on Wandsworth riverside reminded of speed, control and pedestrians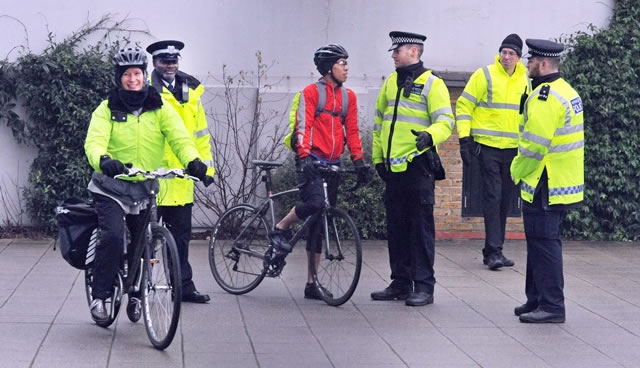 Cyclists were encouraged to take extra care when riding on the Thames Path during a bike safety awareness initiative, carried out in partnership between Wandsworth Police and the council.
The aim of the exercise was to improve safety for both cyclists and pedestrians - the importance of staying safe in the saddle and avoiding collisions with pedestrians was the theme of the event on the riverside walkway near Wandsworth Bridge. The location was chosen following concerns raised by local people.

Officers from the Met Police spoke to cyclists to remind them to keep their speed under control as this is a part of the riverside walk where a small minority of cyclists ride too fast and run the risk of colliding with pedestrians and other cyclists.
The council's community safety spokesman Cllr Jonathan Cook said:
"The vast majority of cyclists are very sensible and slow down at this busy location where they could easily encounter pedestrians and other cyclists travelling in the opposite direction.
"Sadly though some are not quite so sensible and do ride too fast which puts both them and others at risk. The aim of this operation was to simply reinforce the important safety message that it's better to slow down and allow a little extra time for your journey rather than have an accident."
Wandsworth is fast becoming the cycling capital of London after scoring the biggest increase in pedal power in the whole of England, according to figures published by the Department for Transport (DfT).
The proportion of local people who cycle at least once a month went from 18.2 per cent in 2013/14, to 30.7 per cent in 2014/15 - a rise of 12.5 percentage points. Only two other parts of London made it into the top ten for year-on-year increases – City of London with a 9.8 per cent rise and Croydon with an increase of 5.9 per cent.
Wandsworth's sharp rise brings its overall cycling rate up to fifth in the country, behind the university towns of Cambridge (58), Oxford (43.2) and York (34.2), as well as neighbouring Richmond (33.1).
According to the DfT report, the proportion of regular cyclists in Wandsworth is now double the average for England which stands at 14.7 per cent.
March 15, 2017