Enoteca Turi Back Under Threat From Development
---
As Landlord submits revised planning application
In March 2014 we reported that the landlord of Enoteca Turi & Bar One had withdrawn his plans to develop 6 flats above the two businesses.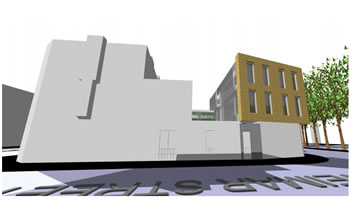 proposed rear elevation

However in January this year a revised plan for five not six flats has been submitted and the first Giuseppe Turi heard of this was when a diner in the restaurant asked him what he thought of the plans! Giuseppe feels that the landlord is not prepared to discuss working with the businesses to develop the plan to suit all and that with their lease up for renewal later this year they will have no choice but to look for a new location and there is no guarantee that they will find anything suitable in Putney.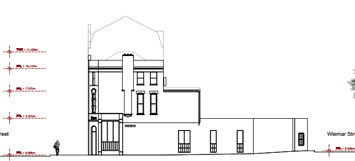 side elevation

The revised plans put the future of one of London's favourite Italian restaurants under a dark cloud. Described by Harden's as offering: "first-class Italian regional cooking" plus "a massive selection of carefully chosen Italian wines". The kitchen will have to be moved back in to the existing dining area resulting in a loss of 30 covers. Whilst this occurs the business will have to close - how many staff will they be able to retain in a minimum of three months closed? Giuseppe also said that "whilst the development of flats continues the restaurant will not be able to open for lunch time trade as the noise will be too disruptive."

Pam Turi told PutneySW15: "Enoteca Turi has been a part of the Putney community for nearly 25 years; we started on a run down premises with a rubbish dump at the rear, and invested £400,000 which resulted in a huge improvement of this corner site. The restaurant is one of the few businesses on the High Street that has grown constantly over the years, despite two recessions, outlasting many well-known chains, and is a destination place for lovers of Italian food and wine, and an institution in Putney."
A spokesperson for 'BetterPutney' (their goal of the group is get people engaged with a general push for a "Better Putney" - they hope to gather residents' opinions and relay them to Wandsworth's planning department and developers) commented:
"Any proposals which result in long standing and popular businesses to close need to clear a high bar to be accepted - and we hope that the planners look very closely at the detail of what is proposed".

Comments from residents and dinners on the planning department websites show a common concern for overdevelopment of Putney, impact on local businesses and traffic on the Council planning website:

"The proposal is out of keeping with the local area, and will have a significant commercial impact on Enoteca Turi - one of London's leading restaurants. I strongly object to the proposal for yet more housing on a busy main road, without adequate parking provision, and which will put even more pressure on local public transport. It is indefensible for a scheme of such low architectural merit to put out of business a feature of Putney which draws people to the town to spend their money here."

".... pay no heed to the Putney Bridge Conservation Area. They do not address the need for affordable housing, and are yet another assault on decent people who work hard, add immeasurably to our quality of life, create employment and pay tax. It is an over-intensive use of the building. Once the proposed back extension is in place there will be a domino effect.....That part of the lower High Street is the visible gateway to Putney and more care should be taken when designing developments."

"I do feel the council should wait and see the impact of the existing developments approved on the already strained infrastructure before approving more planning applications for more residential flats. The trains have become notably more packed in rush hour and the pollution levels have also soared. In addition, the local Italian restaurant below this development is one of the pride's of Putney and should be protected."

In March when the original application was withdrawn Cllr Jim Maddan stated: 'This might just be an initial skirmish, but we have made it clear that any further application MUST be predicated on the restaurant staying, with minimal disruption to local businesses. Well established businesses are the cornerstone of maintaining a thriving high street, where vacancies are kept to an absolute minimum'.

Today Cllr Maddan said: "I have been in contact with Pam Turi and I am working closely with the planners and the conservation officers. The new scheme is better than the last one but it is still too big and will be intrusive on the restaurant / bar businesses If planning consent were to be given, it is very important that the landlords are under no misapprehension that any development has to have an absolutely minimal effect on the businesses concerned. As we have seen with Eddie Catz, it must be understood that emotion is not a reason to refuse a planning application. We must all work together to minimise the harm".
February 16, 2015