Emergency gas main repairs start today and result in full closure of the road


Road users are being warned of likely severe traffic delays across Putney and Wandsworth from later today (8th August) due to emergency gas main repairs on the busy A3 trunk road at West Hill.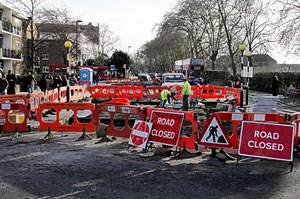 Southern Gas Network engineers have been given approval by Transport for London to close the A3 West Hill in both directions from the junction with Upper Richmond Road to the junction with Portinscale Road in order to repair a leaking major gas main that runs underneath the carriageway. The 30" gas main is 3 metres deep and teams are working extended hours to dig out the main. To fully repair the leak safely it will require a specialist to make a metal shell to go around the main.
This emergency repair is likely to take approximately seven days and is likely to result in serious delays in the area until finished. Road users are being advised to avoid the area if possible and use alternative routes. Thames Water have been asked to attend site to complete some works within the carriageway during this closure to avoid a planned directional closure and work collaboratively with SGN at this time
Vehicle traffic will most likely be directed along the Upper Richmond Road and along either Putney Hill or Roehampton Lane. Local diversion along Portinscale Road, Keswick Road will be sign posted also for local traffic. Additional signage will be placed in and around the area. There will be severe traffic disruption in the Wandsworth and Putney areas and residents are advised that you avoid the areas and find alternative routes where possible.These diversions will be finalised later today by TfL which is the highway authority for the A3.
Road users face further disruption in the Wandsworth one-way-system as a result of other SGN works which commenced in Armoury Way on Saturday morning. To date TfL, which is the highway authority for all the roads in the one-way-system, has not ordered SGN to suspend these works until their West Hill repair is complete.
The gas company's works in Armoury Way are scheduled to last six weeks. Local businesses affected by a loss of trade because of the works can apply for compensation from SGN. For more information visit the publications section of www.sgn.co.uk.
August 8, 2018