Barnes Bugler Sarah Arthur updates on the closure or lack of closure of the bridge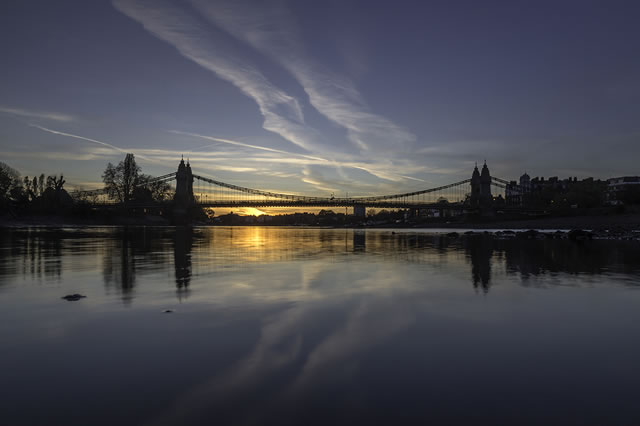 Hammersmith Bridge - images Andrew Wilson @twitter.com/AndrewPics
Neighbouring Barnes Bugle has been writing about the imminent closure of Hammersmith Bridge for major works for almost as long as there has been a Bugle.
We first reported on plans to close the bridge for a major re-strengthening project in 2015 and at that time it was thought the repairs would take place some time in 2016. However three years on and the closure of the bridge still hasn't happened.
Hammersmith & Fulham Council recently revealed in a letter to a Barnes resident that the engineering survey - which has been scoping out the details of the strengthening project - has revealed further complexities that require closer attention. However despite this they are still targeting 2019 as a start date for the work.
The Bridge was originally built in 1887 and was never intended to take the weight of modern traffic. Over the past forty years there have been numerous attempts to repair and strengthen it.
As long-term Barnes residents know, the bridge has been closed several times for lengthy periods, first in 1973 when new steel trusses were installed, again in 1984 when the tower bearings on the Barnes side failed under a heavy load, then in 1987 when the plywood deck panels were replaced. After the bridge reopened in 1999, following a near three-year-closure, the 'Real IRA' bombed it in 2000. It was then closed for a further two years of repairs.
Given that the Bridge is a mixture of the original structure and a patchwork of repairs it is not a shock to discover that the engineering survey has revealed a few surprises.
Now that a new set of repairs is in the pipeline the Council want to make sure that the work is as comprehensive as it can be – hence the three year survey period which is still ongoing.
The final plans will have to be approved by Hammersmith & Fulham Council, Historic England (the bridge is Grade II listed), the Port of London Authority – and the repairs then funded by TfL.
Given that the work on the bridge will have to go out to tender to various engineering firms the Bugle will be impressed if work does start in 2019.
Sarah Arthur

February 4, 2019