"Neighbouring communities should not be left to suffer from .. failure to get a grip on .. long-standing problem"



© Andrew Wilson
Road users can expect heavier congestion on the approaches to river crossings in south west and west London for the foreseeable future after a sudden announcement by Hammersmith & Fulham Council that it was closing Hammersmith Bridge to all vehicle traffic until further notice.
Following a prolonged series of closures in recent years, H&F said it needed to close the bridge again "indefinitely" due to safety concerns. As a result traffic is likely to be heavier on Putney, Wandsworth and Chiswick Bridges, with delays expected on all approaches.

Pedestrians and cyclists will be able to continue to cross the bridge but bus services will be disrupted with diversions expected on routes 33, 72, 209, 419, 485 and 609. Passengers can check for the latest news about bus services on the TfL website or by following @TfLBusAlerts on Twitter.
Motorists can access up to date travel information at www.tfl.gov.uk/trafficnews or via Twitter @TfLTrafficNews.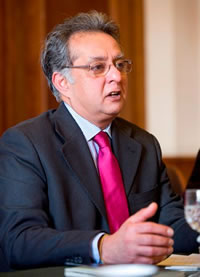 Wandsworth Council Leader Ravi Govindia said: "This is bad news for the travelling public in south west London and in particular for our residents living near to Putney and Wandsworth bridges. The problems with this bridge are very well known and have led to numerous closures over the past decade. It is not an issue that has suddenly emerged completely out of the blue so Londoners will rightly ask why Hammersmith and Fulham Council has allowed its condition to deteriorate to such an extent that it has to be closed without warning.
"Neighbouring communities should not be left to suffer from their failure to get a grip on this long-standing problem. Hammersmith & Fulham has a responsibility to get the bridge repaired and reopened. They need to get people in this part of the capital back on the move."
For further information about the bridge closure, people can visit Hammersmith & Fulham Council's website.
April 12, 2019