Four London councils say ministers have 'already made their minds up'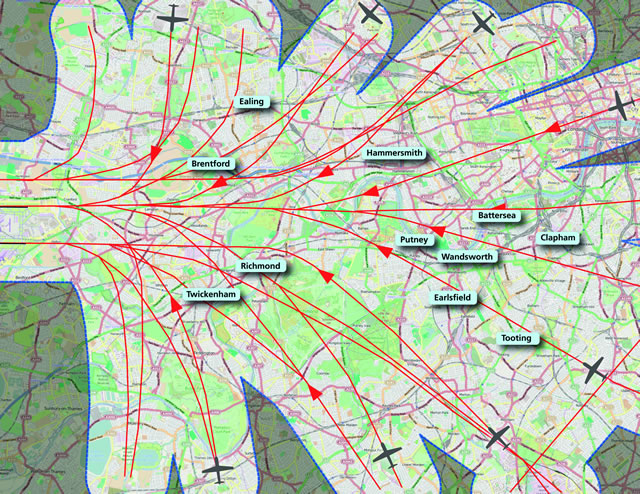 The London Boroughs of Wandsworth, Hillingdon, Richmond upon Thames and the Royal Borough of Windsor and Maidenhead have questioned the lawfulness of the Government's consultation on the expansion of Heathrow Airport.
In their most recent submission to the Department of Transport the Councils claim that, "a consultation, to be lawful, must be approached with an open mind", before citing several instances where ministers at the Department for Transport have indicated that their "mind is prematurely but firmly made up".
These instances include a statement by then Aviation Minister, Lord Callanan, on 13 July 2017, in which it was stated that the work to analyse the responses was progressing and that the Government is "fully committed to realising the benefits that a new Northwest runway at Heathrow would bring".
The submission also cites an appearance on Newsnight, on 17 July 2017, by Transport Secretary Chris Grayling, in which he claimed that, provided Parliament agreed, Heathrow would "definitely be going ahead".
In their response to what the Department for Transport called the Consultation on the Revised National Policy Statement, the four boroughs also question whether the Government has yet taken into account the responses to the earlier consultation, to which they had responded in May 2017.
The four Boroughs believe that, had the approach been genuinely open minded, and the evidence considered, then expansion at Heathrow would already have been rejected not only on the grounds of air pollution and excessive noise but also because of the following new evidence, presented in the revised consultation, which suggest that Heathrow:
-fails to deliver any economic advantage over Gatwick
-would need Government subsidy of essential transport access and/or subsidised flights
-will not (contrary to Government assurances) operate with less noise than Heathrow does today
Paul McGuinness, Chair of the No 3rd Runway Coalition, which the four boroughs are part of, said, "There's a growing sense that the case for Heathrow's third runway is falling apart. The evidence, including the government's own, simply no longer stacks up to support it. The only thing they seem to have on their side is the DfT, whose prejudgement in advance of its own consultation, is now raising serious legal questions in the year ahead."



January 2, 2018