Responses from Wandsworth Council, Zac Goldsmith & Putney MP Justine Greening
Wandsworth Council leader Edward Lister has condemned Parks Minister Margaret Hodge after she announced that she was approving the introduction of parking charges in Richmond Park.
In the letter announcing her decision, the minister states that people in south west London are rich enough to afford the charges. She dismisses out of hand the argument that charges will deter people on lower incomes from visiting the park – basing her decision on research which suggests that only the rich and wealthy visit the park.

In response Cllr Lister said:
"We have been expecting this announcement for some time but one is never quite prepared for they way in which the public's genuinely held concerns can be so easily and arrogantly dismissed by a Government minister.
"Mrs Hodge says she has seen the results of the public consultation that the Royal Parks Agency carried out last year. She will know then that a massive 84 per cent of people rejected the notion of charges – not out of self interest - but because people could see that this was a bad idea that would deter those on low incomes, the elderly and families with children struggling with the financial effects of this recession.
"What Mrs Hodge doesn't want to acknowledge is that most visitors to the park have no choice about taking the car because the public transport options into the park are non-existent. On this issue, the minister has no answers other than to say London Transport should do something about it.
"Similarly she is totally unconcerned about the effect charges will have on adjoining residential areas like Roehampton, which will inevitably suffer overspill parking from drivers seek to avoid the charge.
"The sole justification for her decision seems to be that is that people in this part of London are all rich and so they should be made to pay. If ever there was a case of a minister being detached from reality – this is it."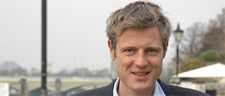 Zac Goldsmith said:
"The Government has utterly failed to take into account the huge strength of local feeling. Thousands of people signed our petition. Richmond Park is one of the only places left where people can escape the hustle and bustle. That will change with these charges, and there will be many people who will cut back on their use of the park to avoid them."
He added:
"The rally will absolutely go ahead as planned on January 30th. It is vital that we get a big turnout. I believe we will."

The rally will start at 10.30 in the car park at Pembroke Lodge on Saturday 30th January and is a non-party political event. Zac has invited the Labour PPC for Richmond Park as well as the Liberal Democrats to take part.

Zac previously collected more than 2,000 signatures against the charge and has spoken with the Shadow Culture Secretary, Jeremy Hunt, about reversing this decision should the Conservatives form the next government.

Putney MP Justine Greening told PutneySW15.com that she is utterly disappointed at the decision and the cost of implementing the charges:
"After the overwhelming opposition of local residents, Margaret Hodge's decision to press ahead with introducing car park charging is completely wrong. It will also cost nearly £3m of taxpayers money to implement - a disgraceful waste of our money. Richmond Park is a wonderful local park and these charges will be unaffordable to pensioners, families and many people for whom using a bus is not a realistic option. Ministers are now completely out of touch and clearly have no idea how important our local environment is to us."



January 18, 2010