Justine Greening MP and Local Assembly member take up issue with utility company
Both local Assembly Member Leonie Cooper AM and MP Justine Greening have taken up issues raised by local residents about the emergency gas works being carried out on the junction of Replingham Road and Wimbledon Park Road with the Southern Gas Network (SGN).
SGN were due to begin these works in October, but an emergency call reported by a member of the public smelling gas meant emergency work began on Tuesday 28 August leading to significant disruption in the area.
Replingham Road remains closed between Wimbledon Park Road and Elsenham Street while engineers carry out repairs. A signed diversion route via Merton Road and Granville Road is in place for motorists.
SGN are also replacing nearby sections of their network in Wimbledon Park Road. Temporary three-way traffic lights have been installed at its junction with Replingham Road and Augustus Road .
Ms Cooper recently met with representatives to receive an update on the works and called for clearer and more consistent communication with residents that are affected.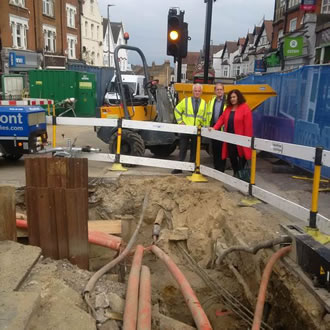 Leonie Cooper AM with SGN representatives
During the meeting, SGN representatives explained that the issue lies with the main gas pipe, and that repairs are likely to take up to six weeks. The complexity of the operation is down to the fact that the gas pipe is surrounded by a number of other water pipes that are in the process of being upgraded, and that it travels over the London Underground District line.
Local London Assembly Member, Leonie Cooper AM, said:"While the work being done is clearly necessary and complex, I agree with local residents that they should have received more notice and better engagement from SGN in regard to the scale and the reasons behind the emergency works.
"After raising this with SGN, I am now confident that they will do everything they can to keep residents and businesses better informed. However, I will continue to monitor this over the coming weeks. I would urge residents to get in touch with either SGN or myself if they experience further issues, so that we can ensure problems are resolved as swiftly as possible".



Justine Greening MP inspects Southfields gas works

Local MP Justine Greening has also met with SGN, she said: I arranged an on site meeting this week to see how the works were progressing. The works will be ongoing for six weeks. There were already upgrade works planned for October so SGN has brought those forward to also get on with at the same time, so they don't have to come back for another six week period later this year. What are the upgrade works? Well, all these gas pipes were mostly laid by the Victorians, so they've done us proud but need updating - that's the other work that was already planned to happen along Augustus Road....another one of the BIG pipes."

Local residents and businesses have their say

On 4 September 20 business owners and residents attended a meeting chaired by Gill Habershon, vice-chair of the Southfields Business Forum (SBF) guests were:
* Tony Hollis- Project Manager, Southern Gas Networks (SGN)
* Donal Macintyre - Project Manager, Forefront (the workforce there)
* Stuart Porter - Engineering Manager, SE Major Works
* Sunny Patel – Chair, SBF
The panel was told that there is daily liaison between the contractors SGN and the council on these works, pedestrian, and vehicle access etc., and changes were made throughout last week in the light of experience. There is a coordination meeting of all utilities, police and the council held every 3 months to discuss and coordinate all these works and the knock-on effects, going a long time into the future. Project details are regularly updated at www.sgn.co.uk/Roadworks/Emergency-repairs



Residents & business owners meet with SGN
Main points raised from the floor were:
* Concerns by businesses over deliveries with large lorries – e.g. Boots had no delivery last Wednesday, and Cook can only now get a delivery of 100 meals a day not 400
* One of our local pharmacists reported that Boots were claiming they had lost 47 patients last week, as they were unable to park nearby
* There is a compensation scheme in place for businesses which suffer a genuine loss of trade. Packs are available at https://www.sgn.co.uk/Publications/Customer-service
* WPR – businesses have not been affected as much
* Traffic on Pirbright Road – "the Replingham Road by-pass" – was brought up by several residents and calls for it to be made one-way for the duration of the works. The 2 schools on Pirbright Road are back soon, which will only increase traffic. Councillors present said they would take this back for consideration.
* Standen Road - concerns over this street too, and seemingly little monitoring of the situation by the council
* Council planning officers were not at the meeting - not good enough
* Planned works on Augustus Road are in planned within the next year, and will be well publicised ahead of time
* Overrunning – they are confident these works will be completed on time and are working on site 7 days a week to aim to finish by early October.
It was pointed out that it's inevitable there is going to be disruption if you close such a critical road, but the works were always going to be done at some point. It is also difficult to legislate for 'stupid' drivers, who drive too far and ignore signs, even being rude to long-standing residents.
SGN representatives will be at the next meeting of the Southfields Grid Residents Association on Tuesday 25 September at 6.45, which everyone is welcome to attend.

September 12, 2018