Council categorically denies there is any threat of closure
Cllr Malcolm Grimston, who has represented West Hill ward for 20 years, has announced that he has left the Conservative party and will be standing as an independent councillor at the next election.
The decision was prompted by his view that the Council is formulating plans to close Southfields Library. The Council have categorically denied that there are any such plans.
Cllr Grimston said, "I am told the plans are still at a very early stage and nothing has been decided, so I hope we can stop them before they go much further. I would like all work on this idea stopped straight away – you don't work up plans if you have absolutely no intention of using them. We want cast-iron guarantees about its future. To achieve this we need the community to show its views as clearly as possible."
Wandsworth Council leader Ravi Govindia said, "These allegations are untrue. Of course, we always look at every possible savings option but reject any that would be unacceptable. There are absolutely no plans to close Southfields library or indeed any other library in the borough."
A campaign run by Rob Richman has been launched with Cllr Grimston to protect Southfields Library from a perceived threat. He stood for Southfields Ward in this year's council elections as a community candidate to save the cinema (the 'Southfields Plaza', formerly used as a snooker hall) in Southfields town centre.

Mr Richman said: "A library is so much more than just a place to borrow books – Southfields has a wide range of activities, especially for children, and is another important feature of our community which is under threat after the snooker hall and the boys' club, both of which have disappeared from Southfields town centre recently."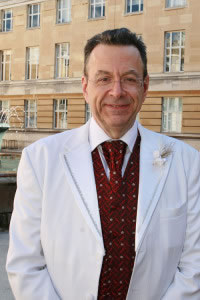 The campaign also sees the launch of the Wandsworth Independent Alliance. Cllr Grimston (pictured left) said: "We see an association of independent councillors and other community activists who will be expected to use their own judgment and put the community first, rather than always voting as the Party tells them. Nonetheless, we expect to be held together with a set of shared principles – belief that communities can be trusted to take their own decisions, resisting some of the heavy developments that we have seen in recent years and finding ways of saying 'yes' instead of saying 'no'."

Roehampton resident Adam Gray believes that the council is looking at closing all branch libraries including Roehampton, not just Southfields. He told PutneySW15: "It's no secret that the Conservatives on Wandsworth Council are now looking at cuts for next year. That a Wandsworth councillor of 20 years, a former cabinet member has quit adds credibility to the threat of more wide-spread library closures: I hear that every branch library in the borough could be closed - that would mean Roehampton Library. Instead of a panicky denial of something it's clear is being discussed the council must now publish the secret closure papers Conservative councillors are considering. Politics as usual has just cost the Conservative Party a senior councillor. It must not cost Roehampton its library."

The Council say that they have recently entered into a long term contract with a charitable social enterprise to manage libraries on a day-to-day basis. They claim this change has allowed them to make the necessary level of savings we needed to ensure the financial future of our library service, without requiring any closures.
Cllr Govindia said, "In the case of Southfields, some people may be getting confused about its temporary closure next month while we repair its roof. We are investing around £20,000 in a new roof for the library and we would hardly be spending this money if we were then planning to close it down."

September 25, 2014