Labour warn of " dirtier streets this week as cleaners and drivers strike in protest at poor pay"

Street cleaners and drivers employed by Continental Landscapes are on one of two day walk-outs today (28 February) over pay after Wandsworth Council ignored requests to pay them the London Living Wage - the second one is tomorrow, March 1.
According to the GMB which represents the striking workers, cleaning and driving staff employed by Continental are currently paid £7.50 an hour. The London Living Wage is £9.75.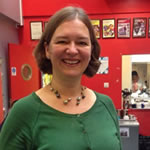 Councillor Fleur Anderson, Labour spokesman on Community Services, said: "Residents in Wandsworth already get a bad deal when it comes to street cleaning services which have been cut back by the Council to the point where bins have been removed and collections cancelled to save money.
The problem now looks set to get even worse as a result of Wandsworth's penny-pinching. Wandsworth should pay the London Living Wage, not just because it is the right and moral thing to do but also because it makes good business sense; the benefits are obvious - including increased productivity, improved staff morale and better services for Wandsworth residents".

A council spokesman told this website: "This is a dispute between our contractor and its workforce. We expect services to be provided in line with the terms of the contract."
According to the council press release in 2012 when the contract was announced, 'every residential road in the borough will receive at least two weekly sweeps and cleans. Busy residential roads with a high footfall could be cleaned as many as seven times a week'.
Paul Grafton, GMB Regional Officer said: "The directors of Continental Landscapes are simply promoting modern day slavery within Wandsworth and yet the Council show no interest and appear to be happy to see the staff earning so little. Some staff are struggling to pay for the most basic of needs".
February 28, 2017