"The Train Arriving On Platform 2 Is The Ten Carriage Train To Waterloo"
---
One new train in service on the Windsor line, many more to follow
The first ten-car train entered service on the line from London Waterloo to Windsor & Eton Riverside through Putney on Monday, 10th March, initially with two five-car units running in fixed formation. The full journey takes about an hour, and with about a quarter of an hour to turn round at either end, there are five trains normally in service on the half-hourly schedule. At present, the other rotas are provided by the existing eight-car trains.

The 'new' trains are in fact about fifteen years old, but have been fully refurbished and look brand new inside. There will be 36 new five-car units, 180 coaches in all, formed out of the 30 four-car units [120 coaches] currently providing the Reading services, and the 8 eight-car units [60 coaches used, and 4 eventually scrapped] which used to provide the Gatwick Express services.

The refurbishment programme is being spread over a number of months, so that there are not too many units out of service at any one time. The first two units in service this week consist entirely of former Gatwick Express stock.


The new trains can be identified from the front by the substantially larger quantity of yellow paint than existing trains. Unlike the existing blue-coloured trains, they do not 'screech' as they start and stop, and they do not contain any first-class seating. Inevitably there will be the odd teething problem upon introduction into service, and one coach was experiencing door problems for the first couple of days; a technical assistant was travelling on the train to assist with such problems.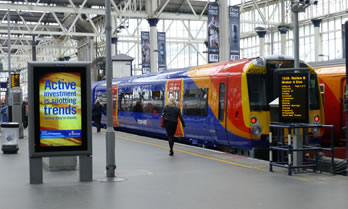 Not all the stations along the line have had their platforms extended to take the ten-car trains, notably some of the smaller stations near Windsor, and Isleworth on the Hounslow loop. There will be selective door opening at these stations. The coaches in the new trains all bear letters of the alphabet for identification purposes, so expect some new announcements from the guard to explain the situation.

James Dixon

March 14, 2014