Only two longer trains running from Waterloo
Wandsworth Council is calling for ten car trains to be introduced on South West Trains services to Waterloo as a matter of urgency after another missed deadline.
Modern, longer trains were supposed to be rolled out by the end of 2013 on services between Putney, Wandsworth Town, Clapham Junction, Queenstown Road and Waterloo stations.
So far only two new trains have been introduced and commuters continue to complain about sardine-like conditions in the morning and evening peak (Putney station pictured right).
Wandsworth's other key rail services between Balham, Clapham Junction and Victoria, operated by Southern, have seen the introduction of 20 brand new longer trains, with more expected in the first part of this year.
Southern will also increase the length of services from Clapham Junction to Shepherds Bush and Watford from May.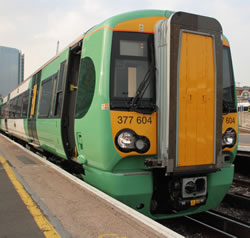 Wandsworth's transport spokesman, Cllr Russell King, said:
"The rail industry's first deadline for rolling out ten car trains on services to Waterloo was 2010. Three years later and we're still waiting for this vital extra capacity. Thousands of local people rely on these overcrowded trains and their patience ran out years ago. The platforms have been lengthened, the timetables adjusted but the trains are still no where to be seen.
"Wandsworth relies heavily on its rail network and we need to have it running at optimal capacity to meet the demands of our growing city. The rail industry needs to gets this upgrade over the finish line."
Wandsworth Council has been long been campaigning for new investment in the rail network including longer trains, a more frequent timetable, improved infrastructure and upgrades to the borough's train stations.
Major improvements have been secured at Balham, Wandsworth Town, Earlsfield and Clapham Junction stations in recent years and work is now underway at Putney.
The council is also pressing for a second entrance to be introduced at Putney station and for a major overhaul of Clapham Junction which councillors say is long overdue.
Cllr King continues: "2013 brought some big wins for our transport campaign including the Barclays Cycle Hire extension, a vastly improved riverbus service and a massive road and pavement repair programme. We also saw our new Overground route from Clapham Junction established as a vital cross-London connection and there were important breakthroughs with our campaigns to secure the Northern Line extension and Crossrail 2.
"We need to maintain that momentum in 2014 if we are to keep pace with demand, starting with the delivery of longer trains on Putney to Waterloo services."
January 4, 2014