As London Councils seek new way to deal with bad behaviour in parks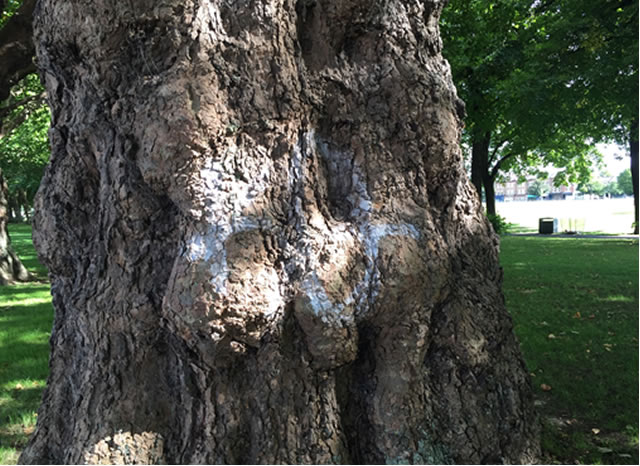 Friends of Wandsworth Park (FoWP) are reporting that trees are being vandalised with 'tagging' marks in the park. The 'tags' - or writing of an artist's name - are being painted on the barks of hundred-year-old trees. In addition to the issue with the trees FoWP are reporting graffiti on the Pavilion, the FoWP Noticeboard, the path along the river, the playground and benches.

A spokesperson for FoWP told this website, "Wandsworth Park has seen a great rise in antisocial behaviour over the past few years with little consequence. It's sad to now see hundred-year-old trees being defaced by graffiti. We're working closely with Vincent Chan from the Safer Neighborhoods Team to try to find some solutions. Our Park deserves to be protected from this type of behaviour. As this problem continues to increase, we urgently need to come together and find ways to eradicate it."




Local Thamesfield Ward councillor Mike Ryder says, "I think most people respect how great our Wandsworth Park is, and how lucky we are to have it. But on-the-spot fines are a good idea if they help deter the irresponsible few, particularly if graffiti vandals are now going round tagging trees there."

Currently Wandsworth Council is supporting a consultation being conducted by London Councils – the umbrella organisation that represents the capital's 32 boroughs – that would allow minor offences to be dealt with by way of a fixed penalty notice (FPN). The deadline is looming (Sunday, September 3) for residents to have their say on these council-backed proposals to change the way bad behaviour is dealt with in its biggest parks and open spaces which could free up the borough's parks police officers to carry out additional patrols.
Some of Wandsworth's larger green spaces are covered by a series of byelaws that cover many types of anti-social and undesirable behaviour such as rowdiness and aggressive or dangerous cycling. Under the current system, if a parks police officer wants to enforce these byelaws, he or she must liaise with town hall lawyers in order to issue a summons, obtain and prepare witness statements and prepare the case for court.
This is a time consuming process that means an officer is required to spend considerable periods of time filling out paperwork or attending court waiting for the case to be heard instead of going out on patrol.
Issuing FPNs instead of court summonses would free up time in the magistrate's court and most importantly reduce paperwork and allow the parks police more time to spend on patrol providing a visible reassurance to parks visitors.
The FPNs would give offenders the chance to pay a fine of £80 without needing to go to court, but still allow those who dispute the issue or feel unfairly treated the option to have their case heard and the evidence tested in front of magistrates.
The parks police also have the training and powers to detain offenders who have committed more serious offences like thefts and assaults. More serious cases like these would not be dealt with by way of an FPN and would continue to be dealt with in court.
The council's community safety spokesman Cllr Jonathan Cook says, "People in Wandsworth very much value having a visible uniformed parks police presence in their open spaces. They find it immensely reassuring to know there are well-trained officers on patrol dedicated to maintaining their safety and security.
"Anything we can do to cut down the bureaucracy and paperwork so they can spend the maximum amount of time out on patrol has got to be a good thing. This is why we are supporting this change and why we would urge people who share that view to take part in the consultation.
"In my view an £80 fine is a perfectly suitable and adequate way of dealing with less serious issues like dangerous cycling rather than the costly and time consuming alternative of taking cases to court. And if people feel they have been unfairly penalised or wrongly accused they will still have the option of having their case heard in court. This important safeguard guarantees their right to a fair and impartial hearing of the evidence."
The open spaces where the change would apply are Battersea Park, Garratt Green, Tooting Common, Wandsworth Common and Wandsworth Park.

We have asked local police to comment on the graffiti in Wandsworth Park.
September 2, 2017