Residents Get Extension To Prepare Legal Response
---
In battle with council over funding of sprinklers through services charges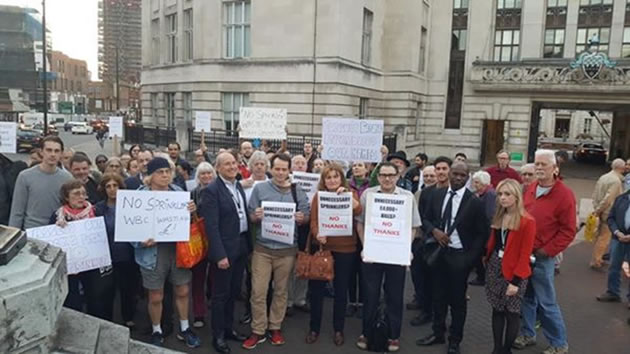 Residents demonstrate outside the Town Hall - September 2018
Residents won an important battle on Friday (22nd March) in a legal dispute with Wandsworth Council over service charges in council managed leasehold properties. Hundreds of residents had backed a request made by Labour Councillors for an additional six months to prepare their response to the legal case brought by Wandsworth.

In July 2018, Wandsworth council started legal proceedings to test whether they could impose water sprinklers in the homes of around 2,600 leaseholders in 100 of its 10 storey residential blocks, even if the leaseholders objected. The Council is seeking to receive the go ahead from the First Tier Property Tribunal to charge leaseholders around £4,000-£5,000 each to retrofit sprinklers although the final costs, ongoing maintenance costs, and the type of system are still unconfirmed.

The council initially said that its position of insisting on sprinklers in the high rise blocks was urgent as it related to the events at Grenfell Tower. However, it has since clarified that the fitting of sprinklers is not urgent, and that it will not make any decision as to whether or how sprinklers are fitted until after the recommendations of the Grenfell Tower Inquiry.

To date the number of Leaseholders who have expressed their serious concerns - and in many cases outright opposition - to the Council's policy runs into the hundreds.
Affected residents have been supported in having their voice heard by Wandsworth's Labour councillors and the independent councillor for West Hill, Malcolm Grimston. In particular, Councillor Claire Gilbert, Labour Councillor for Roehampton & Putney Heath, has been working on this case with residents from the Alton Estate. Almost half of the affected 10 storey blocks are in Roehampton, with other affected blocks in Tooting, Wandsworth Common, St Mary's Park, Latchmere and West Hill.

Councillor Gilbert said: "From the start it was very important to try to ensure that residents were able to participate in this case as much as possible. So, we asked the Tribunal to hold its first hearing in Wandsworth, rather than in the West End where it normally sits. In the end, so many residents wanted to participate in the hearing that it had to be held in Wandsworth Council's Civic Suite. Around 100 residents attended, many taking time off work to come and tell the Tribunal their views on the case. The Tribunal was very clear after the first hearing that the Council's application had not been properly set out, so the Council was asked to resubmit its case with a better explanation of its position."

Cllr Malcom Grimston commented: "From the start the council's position has been contradictory – repeatedly saying that our blocks are safe yet setting off on a hugely expensive programme of sprinklers 'to reassure residents'. It took just nine days to come to this decision (between June 20 and 29 2017), without seriously consulting anybody. As soon as it became clear that far from reassuring residents the policy was scaring many of them, the Council should have dropped the scheme and started working with to the people involved, instead of stubbornly digging its heels in. No other Council in the country is treating its residents like this, as far as I can tell. I am glad we have a six months delay but I would prefer the Council to drop its plans and engage with residents as they should have done at the start."

The council has since made it clear that it seeks to impose sprinklers across the 100 blocks on a "global basis", i.e. notwithstanding the significant differences between the blocks. This is one of several aspects of the council's position which many residents object to, asking whether sprinklers are indeed necessary or worth the potential disruption and cost for their particular blocks.

There are also many residents who are concerned about the council's lack of consultation with residents about this issue, and the very poor communication about the legal case, which has caused many people to express anxiety and concern.

The move by the Tribunal today has been welcomed by Residents' Associations and individuals, who had found it extremely challenging to respond to the council's case without legal representation, which they have been told would run into tens of thousands of pounds.

Councillor White, Wandsworth Labour's Speaker on Housing & Regeneration, said: "This extension is an important decision for the residents fighting for a fair representation of their case to the First Tier Tribunal. They can now be confident that they will have time to assemble evidence and challenge the council who are using council finance and officer expertise to impose their will on leaseholders and by extension tenants in their blocks and reflects the hard work put in by Councillors Gilbert and Grimston to ensure a more balanced playing field for the residents."

Residents now have until September 2019 to make representations in the case, or seek a further delay in the proceedings under the Tribunal's rules.

Wandsworth Council has been asked to comment.

March 26, 2019