Justine Greening recognised for work with minority communities
Justine Greening - MP for Putney, Roehampton and Southfields - has had her work with minority communities recognised at the recent MP of the Year Awards hosted by broadcaster Martin Lewis.
The event, which is organised by the politically unaffiliated Patchwork Foundation, highlights and acknowledges those MPs - nominated by individuals and grassroots community organisations, and subsequently picked by an independent panel of judges - who have excelled in representing underrepresented, deprived and minority communties.
An independent panel of judges picked Justine Greening as Runner-up Conservative MP of the Year 2014. She was nominated by a constituent for her work locally to raise awareness of the issues faced by adults with autism in gaining employment, and nationally for her work on mobilising domestic and international efforts to end FGM and forced marriage through the Girl Summit.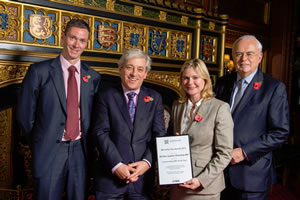 Left to Right – Jonathan Holt (KPMG), Rt Hon John Bercow MP , Rt Hon Justine Greening MP and Martyn Lewis CBE
Ms Greening said: "I am honoured to have been nominated to receive this award by one of my constituents. As a local MP, I think it's important to work with the whole community, especially with people who don't always find it easy to get involved in their local or national democracy. Those people still have important issues that need to be addressed and their voices should be heard. The Patchwork Foundation does a fantastic job of making sure that our democracy has a chance to work for everyone and I'll certainly continue to work hard for my local constituents."
There were over 90 MPs nominated from across the country including MPs from different faith groups and ethnic backgrounds.
Announcing the winners from the State Rooms, in the Speaker's House, The Rt Hon John Bercow MP said: "I would like to give my best wishes to the PaNovember 9, 2014e last 12 months."
David Cameron said: "I'm particularly happy to see so many Conservative Members of Parliament nominated for these awards. I am proud to support the ground-breaking work of the Patchwork Foundation. The organisation has helped thousands of young people from under-represented communities engage in the political process. From holding community engagement events attended by thousands of people, to small master classes with senior political figures, the Foundation is leading the way in making politics more accessible to all, regardless of where you live, where you come from, your age, ethnicity or background."
The Patchwork Foundation launched the MP of the Year Awards 2014 in association with Mosaic Associates, the Three Faiths Forum, UpRising and the National Union of Students earlier this year. The Foundation aims to promote and encourage the positive integration of under-represented, deprived and minority communities into British Political society.

November 7, 2014