Delicious New Summer Eats At Kitchenette
---
We review the new menu at the Putney Bridge Road brasserie
"Turkish-inspired with some Mediterranean influences," is how Kitchenette described their new summer menu as we sat down to eat.

Kitchenette has taken over the large site on Putney Bridge Road that was occupied by Cafe Rouge for many years and then a surf 'n' turf venture. They have done wonders with the interior, breaking it up into cosy sections while still making the most of the feeling of space and natural light from the huge French windows across the front. They've also added a swish bar area and a welcoming table of cakes as you enter.

The food, however, is the star attraction. We started with a sample of starters. The hummus was so delicious we just had to find out their secret ingredient - Tahini. My friend declared the Borek (filo pastry filled with cheese, pastrami and peppers) "absolutely lovely", while the Vine Leaf Dolma were wonderfully sweet and the Falafel were light and tasty. We also enjoyed Ezme, a spicy dip which my friend said was a "very nice contrast to the rest of the dishes, especially when you get a pomegranate seed hit", and a smoky Baba Ganush (aubergine dip).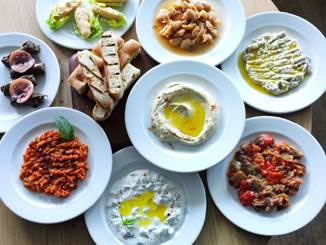 Both my friend and I are big fans of Middle Eastern food and these dishes tasted really authentic. Kitchenette's Maitre d' confirmed that all the dishes are made on the day with fresh ingredients. Even the pile of leaves which garnished our platter was salted and dressed to perfection.

Having enjoyed far too much of the Mezze, we next shared a Kitchenette Grill with Bulgur Rice and Broccoli. The Grill, a plateful of harissa spiced chicken, Kofte (kebab), Kul Basti (chargrilled lamb) and prawns, produced nods of pleasure and plenty of "mmms". The Bulgur Rice and Broccoli with Almonds were a much-need delicate accompaniment.

Too full to even consider offerings as tempting as Baklava Ice Cream and Mastic Oven Baked Rice Pudding, we finished with coffee and peppermint tea (with fresh leaves).

With such large premises, Kitchenette can cover all their bases... breakfasts (with a Turkish theme) are big at the weekends - one of their busiest times - while the welcoming cake table must come into its own with the coffee crowd. Prices are reasonable, especially considering the quality of the food. All the starters (Mezze) are under £5 per dish, while most of the mains are under £15. Breakfasts are £4.50 to £8.50.
We weren't drinking but wine is by the glass, carafe or bottle and is geographically wide-ranging from France, Italy, Chile, Spain, South Africa and New Zealand.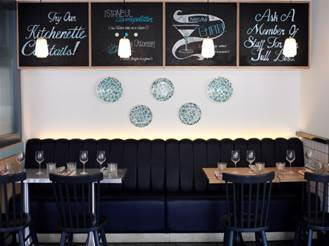 Before we left we asked for a tour of the private dining room in the basement - a good space with its own bar, a huge oval table and widescreen TV. Kitchenette is planning to let it out for kids' parties, but my friend thought it could well be perfect for her own next birthday bash.

Kitchenette deserves to do well with this menu. I shall certainly be back to try their Musakka.
Louise Salmon


June 11, 2014