Mayor says if move necessary it should happen across all boroughs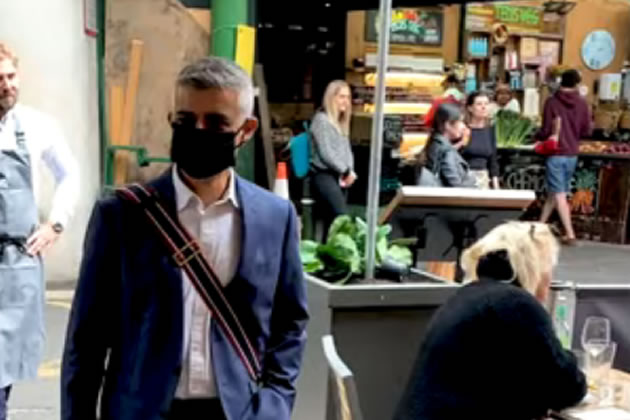 Sadiq Kahn in a mask. Picture: YouTube
Local lockdown in London is not likely this week despite rising infections in almost every borough, according to Sadiq Khan.
The Mayor said he wants the capital to "move as one" – meaning all 33 local authorities will enter lockdown together if further restrictions are needed.
Speaking at the London Assembly this Wednesday (7 October), the Mayor noted concerning rises in Covid-19 cases in north east London – singling out Redbridge, Newham and Tower Hamlets.
But he also warned of escalating infections in Richmond-Upon-Thames, in the south west of the city.
Meanwhile boroughs like Bexley, Bromley and Sutton are faring better, Mr Khan said.
There were 93.7 cases per 100,000 people and 286 new confirmed Covid-19 infections in Redbridge last week, according official figures.
The borough remains London's worst hit, followed by Richmond on 86.4 cases and Hackney and the City of London combined on 84.6 per 100,000.
By contrast, Sutton has just 30.5 cases per 100,000, with 35.3 in Merton and 39.4 in Bromley.
But recorded cases rose in every borough except Barking and Dagenham last week, and there are now over 1,000 new infections a day across the city.
The Mayor said testing data "by itself is not a useful indicator for the increase in the virus" – because the number of tests dropped so low in recent weeks.
Weekly testing capacity in the capital had fallen 43 per cent by the end of last month compared to mid-August.
But London has now been on the national watch list for local lockdown for almost two weeks, and testing capacity has been boosted as a result.
Mr Khan said Public Health England is also using other measures to gauge the spread of the virus – including calls to GPs and NHS 111, and hospital or intensive care admissions.
And scientists are monitoring the level of antibodies in blood donations, which could indicate that the donor has had Covid-19, he added.
"The bad news is the virus does appear to be increasing in our city," the Mayor said.
"The sort of the silver lining is we aren't near the levels we have seen in other parts of the country: the north east, the north west and the West Midlands in particular."
There are now well over 500 cases per 100,000 people in Manchester – more than five times the rate in London's worst hit borough – with Liverpool and Knowsley not far behind.
Mr Khan spoke to Public Health England's London director Professor Kevin Fenton this Wednesday, and has talked with Health Secretary Matt Hancock and Local Government Secretary Robert Jenrick in the last week.
The Government is currently developing a three tier local lockdown strategy, to simplify new rules, and London is currently at Level One, he said.
This will be the lowest level of local restrictions, and though the rules for Levels Two and Three are not yet finalised, the next step would likely included a ban on households mixing, the Mayor said.
At Level Three – the most extreme local lockdown – there would be "far more restrictions not just in the community but on businesses," he warned.
"We're keen to go [into further restrictions] as one London," Mr Khan said.
"The Government is keen for us to go as one London, and there are very practical reasons why.
"The idea of having a restriction in one borough and not in another when people often travel from home to work or may go to a restaurant […] or visit family – you can imagine the complications."
But the Mayor said London will "probably stay at Level One" this week, with London councils due to meet on Thursday to discuss rising infections.

Jessie Matthewson - Local Democracy Reporter

October 8, 2020