Any higher level of restriction would be 'hammer blow' to capital's economy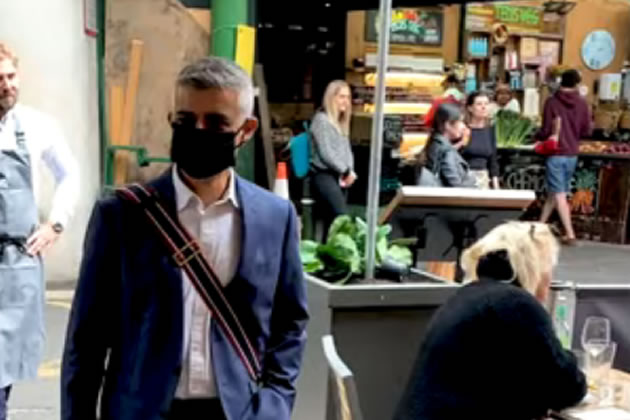 London should be put in Tier 2 local lockdown when national restrictions end next week, Sadiq Khan has said.
The Mayor of London said a Tier 3 lockdown that forced restaurants and cultural venues to close in the run-up to Christmas would be a "hammer blow" to the capital's economy.
It comes after Prime Minister Boris Johnson confirmed yesterday (Monday November 23) that the national lockdown will end as planned on December 3.
Regions will then return to a ramped-up local tier system, with tougher measures to control the spread of coronavirus ahead of Christmas.
Shops, hairdressers and gyms across the country will be allowed to open when national restrictions ease.
But in the toughest Tier 3 lockdown – classed as 'very high risk':
Restaurants and pubs will be takeaway only.
Indoor entertainment venues like cinemas and museums will be closed.
In Tier 2 or 'high risk' areas:
Pubs and restaurants will be allowed to open until 11pm, but they will only be allowed to serve alcohol with a meal.
Households will be allowed to mix outdoors such as in beer terraces, parks and private gardens though the rule of six will still apply.
Concerts and live sports will resume with a limited number of spectators.
In the least affected areas – classed as Tier 1 'medium risk' regions:
Households will be allowed to mix indoors if they follow the rule of six.
Pubs and restaurants will still shut at 11pm, but there won't be restrictions on serving alcohol.
People will still be encouraged to work from home and avoid travel.
The Government has not yet announced which regions will be in which tier – but Mr Khan said putting the capital in Tier 3 lockdown would cause "irreversible damage" to the UK economy.
"London going into Tier 2 next week would seem the right and sensible decision," he claimed.
The Mayor said Covid-19 cases are lower in the capital than in other regions expected to enter the 'high risk' tier when lockdown ends, and he is lobbying Government for Tier 2 measures in the city.
"London's unique ecosystem of bars, restaurants, clubs and cultural venues have been through an extremely tough year," Mr Khan explained.
"If they had to close throughout the Christmas period and beyond in Tier 3 it would be a hammer blow that many might not recover from."
The Government is expected announce London's local lockdown tier on Thursday (26 November).

Jessie Matthewson - Local Democracy Reporter

November 24, 2020