Cressida Dick confident that recruitment can bring force up to strength by next April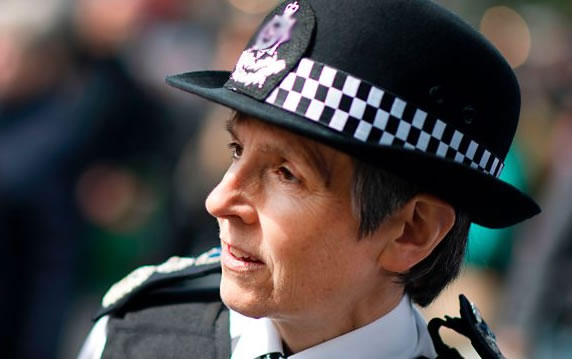 Cressida Dick
There will be 33,000 police officers in London by April next year, the head of the Met has said.
Police Commissioner Cressida Dick said the force would reach 31,500 by spring, and 32,300 by early autumn this year.
Officer numbers in the capital began falling in 2016, and dipped below 30,000 two years ago – the first time since 2003.
Recruitment has since risen with cash from City Hall, with 31,000 officers now in place.
But the Mayor of London and the Met believe the capital needs an extra 6,000 police to tackle high violent crime.
There were more homicides in London last year than any year since 2008, and over 15,000 knife crimes.
Ms Dick told the London Assembly's Police and Crime Committee today that the Government's police settlement would help the Met to reach next year's 33,000 target.
Last month, central government's annual review gave local authorities the power to raise more council tax for policing.
Ms Dick said she was now "very confident about the pipeline" of recruitment at the Met.
The Commissioner said it was a "huge achievement" that between 350 and 450 officers were going through training at Hendon police college each month.
She said: "That's a huge operation to bring enough people in to replace those who are leaving and then bring in extras and be growing at that pace.
"Those officers will go into violence work and onto the front line."
But Ms Dick admitted that the decade high homicide rate last year was "horrible and tragic" and the Met had brought "fewer offenders to justice than I would like" in 2019.
She said last month she moved 100 more officer to the city's violent crime task force to target the most dangerous offenders.
Ms Dick also said the Met would focus more on the "horrible crime" of robbery in 2020 than in previous years.
There were almost 40,000 reported robberies in London last year – up from 33,000 the year before.
She said: "I'm convinced that by putting extra effort into reducing robbery – which has gone up far too much in the last few years – we will have another impact on knife crime.
"We'll be putting away in prison more violent offenders."
Jessie Matthewson - Local Democracy Reporter

February 17, 2020